Friday, July 8th, 2011 in: News, Travel
The Low-Down: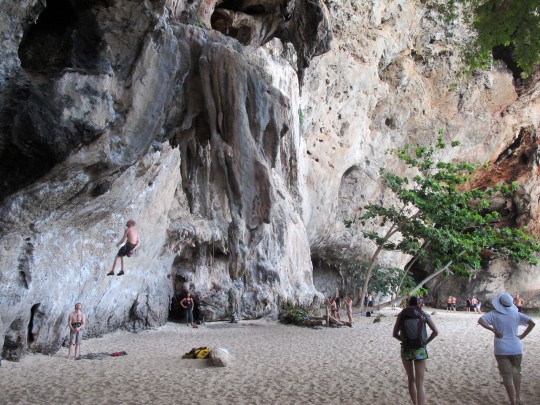 Tonsai (Ton Sai) is a beach village in Southern Thailand, offering a combination of inexpensive accommodation and great rock climbing routes that make it popular with both backpackers and climbers alike. Compared to the resorts of neighbouring Railay and Ao Nang, it's relatively rough around on the edges; in particular, the water isn't too great and the beach is unsuitable for swimming, becoming quite rocky as the tide goes out and getting pretty much flooded when it comes in. This makes it less than ideal to build a fancy resort, but PERFECT for dirtbag climbers, and combined with the beautiful scenery and awesome limestone cliffs, Tonsai/Railay is a must for any traveling climber. (more…)
---
Wednesday, July 6th, 2011 in: News, Travel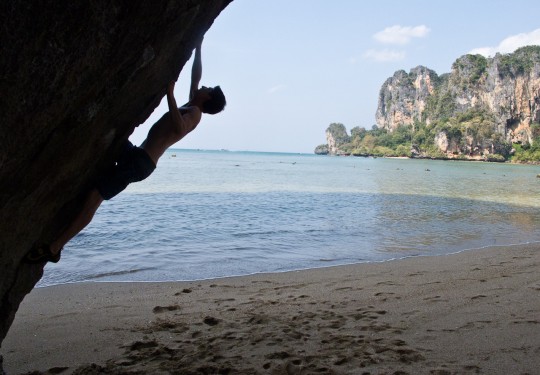 Tonsai is unlike any other place I've been.
Imagine the kind of community that would be created if you gave climbers the reigns. It's easy to picture but also a bit hard to grasp, and that's exactly what Tonsai is like. 90% of the population is there for the beautiful limestone cliffs that blanket the entire peninsula with top-notch climbing routes, and the remaining crowd mistakenly thought it's an extension of Railay. (more…)
---
Sunday, July 3rd, 2011 in: News, Travel
I awoke to a chorus of police officers speaking Malay.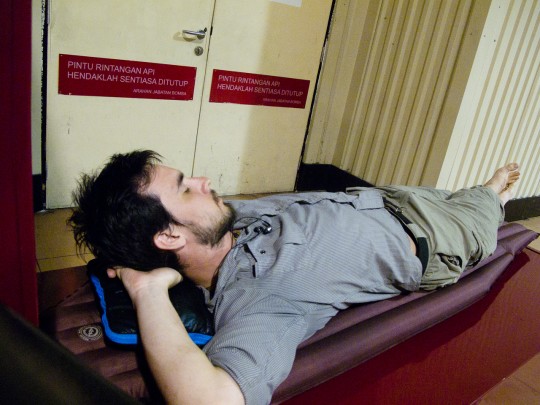 (more…)
---
Wednesday, June 15th, 2011 in: News, Travel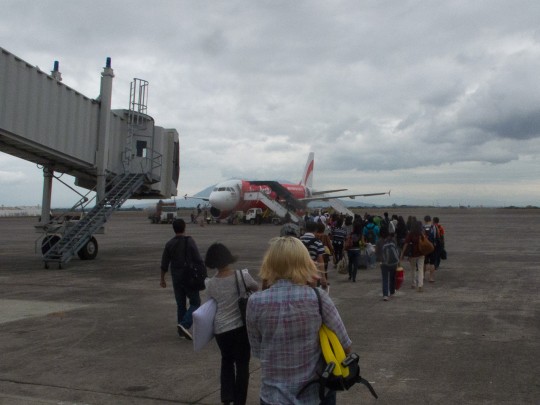 I wasn't in a great rush to leave the Philippines, but my tickets had already been purchased weeks in advance, propelling me forward once again to the next destination. As sad as it might make you to leave a place you enjoy, it's so much better than leaving a place you despise. Sure it's nice to escape someplace unpleasant, but I cherish the positive memories I've had more than my flight from adversity. I was ready to leave the Philippines with a light heart and fond memories of my time there.
The Philippines had other plans for me.
(more…)
---
Saturday, June 4th, 2011 in: News, Travel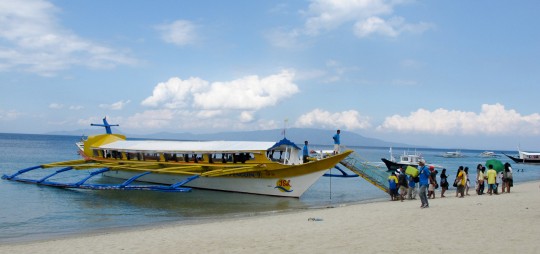 Joowon asked about the best way to get to Banaue and back by Friday, and I had to break the news that she would be spending 80% of her time on a bus or jeepney winding through the mountains, and that she'd have to give up on that plan, and instead join me for a jaunt to Puerto Galera, an island paradise only 3 hours away from Manila. PG was highly recommended by some of Sharon's friends, especially if you wanted to get away but didn't have a lot of time. Sangyup didn't have any better suggestions, so the three of us jumped on a bus and headed to the port. (more…)
---
Wednesday, May 25th, 2011 in: News, Travel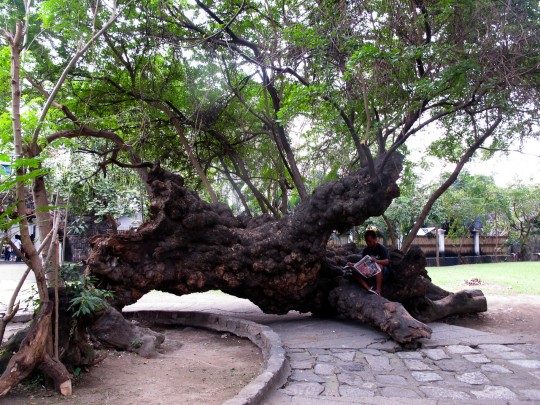 Sharon and I woke up my last morning in Palawan to drop off the motorbikes we rented the day before. When I first suggested it, she was scared to ride one herself, but once I bullied her into getting her own motorbike, she enjoyed it immensely and took hers out for a morning spin before I'd even begun to stir. Sharon is one of the only couchsurfing hosts on the whole island, and is probably one of the best examples of what a good couchsurfing friend is like; rather than feel burdened by the obligation to show people around, she revels in it. Meeting new travelers and becoming a part of their story is how she thrives, joining and adding spice to our adventure. By the time I'd finished packing, she already had responded to three new surfer requests; by nightfall, a new visitor would arrive, and a new adventure would begin. I'm glad to have her as a friend and I'm looking forward to more adventures in the future! (more…)
---
Sunday, May 15th, 2011 in: News, Travel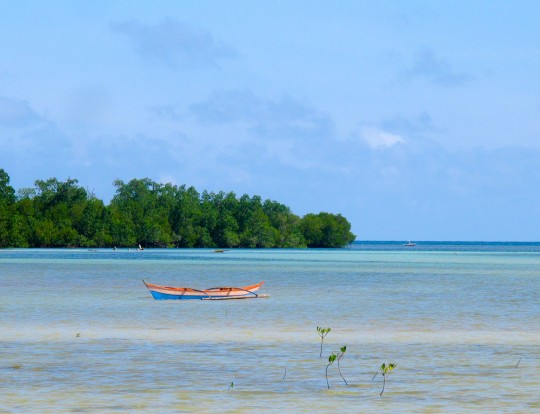 The minibus back to Puerto Princesa managed to feel longer than the ride out there, perhaps because I spent practically the entire time plodding through Ghandi's autobiography. Great man with great ideals, but not the most exciting writer to ever lay pen to paper. When we got off the bus, Jacob and I teamed up with Anisha to find a good trike back into town. Anisha is Indian and lives in Singapore, so she had her nose upturned at what passed for a "tuk-tuk" in the Philippines; but I was the one playing hard-ball with the tricycle drivers. They were not used to being told no, but they held fast to their ridiculous rates, confident that I would cave when the rain started to pour down all around us. I led my bedraggled friends to the end of the bus terminal and found a young desperate looking tricycle, and offered him slightly more than I was hardlining with the other drivers, and he took it on first bite. Damn, we were still probably getting ripped off, but at least we aren't paying tourist prices. (more…)
---
Friday, May 6th, 2011 in: News, Travel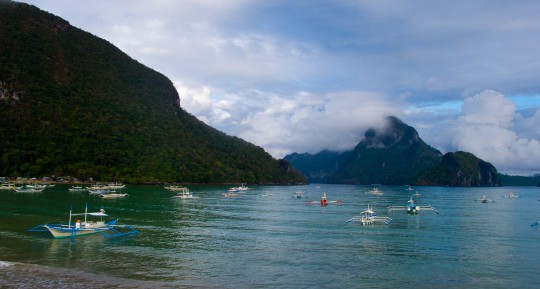 Saturday morning found me in a cafe having breakfast with Angelito, TJ, Gonzalo, Patrick and his wife, the Couchsurfing friends I'd made through Sharon the day before. Everyone was headed back to Puerto Princesa that morning except TJ, who would be joining Jacob and I on the island hopping tour. The day before, while I went kayaking with some of the guys, Jacob managed to get trapped in our guest house bathroom, requiring the doorknob to be smashed off with a sledgehammer to free him. Afterwards, he went for a hike to clear his head, and got chased by a pack of wild dogs. With a string of luck like that, I hoped we were ready for some good karma. (more…)
---
Friday, May 6th, 2011 in: News, Travel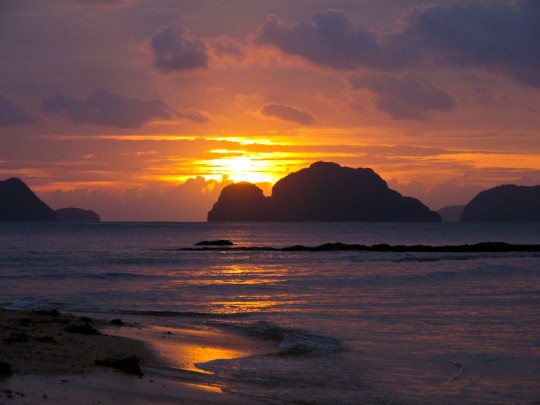 The van ride to El Nido was uneventful. The view was more often than not obscured by the jungle, so I set myself upon my photo albums in another desperate attempt to play catch up. The town itself is tiny, with bars and guesthouses built so far down the beach the water laps at  their foundations during high tide. Massive karst cliffs loomed behind the town, an ominous reminder I hadn't yet climbed in the Philippines.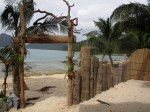 Our tricycle driver seemed to know everyone, but it didn't hold any sway: all accommodations in town were spoken for, thanks to the Chinese New Year holiday, and we were driven over the hill to the other side of the cliffs, where more resorts were being built at a frantic rate. The freshly built Orange Pearl only had one unfinished room available, but we could also get a tent on the beach if that's ok. It was fine by us; Jacob and I would split the tent, and Emily, our impromptu Friend travel companion, took the room. Her neighbors were a group of drunken sex tourists and their girlfriends for hire. What a lovely spot for a sex vacation. Well, not for us. (more…)
---
Sunday, May 1st, 2011 in: News, Travel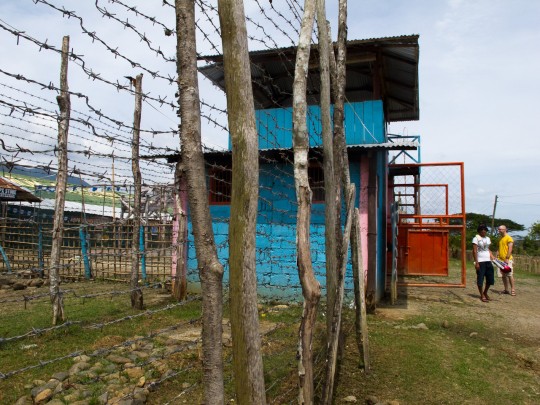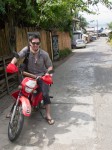 The next day, Jacob had a new challenge for me, and it came with a motor and two wheels. Though my dad had a motorcycle he didn't often ride it, and I never had a chance to learn, so I was a little apprehensive. As comfortable as I am on a bike, throw a motor into the mix and suddenly it's a deathtrap. It turns out my apprehension was unnecessary, as I was comfortably scooting around in minutes. The bikes were semi-automatic (no clutch), but plenty for my needs. Big plans for the day and time's a-wasting!
The exhilaration I feel on a bicycle is magnified exponentially with the addition of a motor between my legs.   Breezing our way out of town, there was a sign on the side of the road that read "you don't need drugs to have fun." damn straight, I yelled, startling a few pedestrians as I passed. (more…)
---