Wednesday, February 24th, 2010 in: News, Travel
When I went climbing with Ryan, he was telling me that there was another climbing gym that might be closer to my house than Aim, called " Big Rock."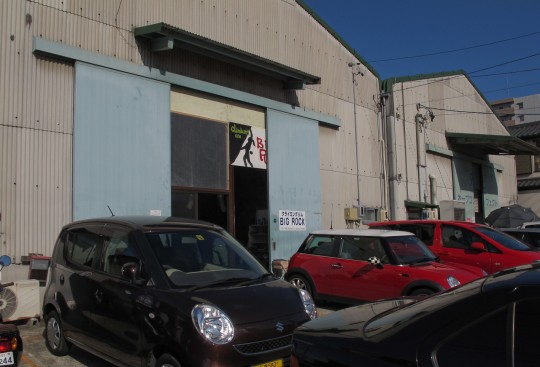 Not only is  it closer to my house, it's only a few stops away on the train, and is maybe 4 blocks from the train station. That's what I call an easy approach! As I left the station (中小田井駅), I saw another foreigner walking with a couple Japanese people. This situation can be a little awkward at times. There's something about being a foreigner in Japan, especially rural parts where you don't expect to see other gaijin, you almost take the Japanese perspective and are a little bit startled. Today I was feeling pretty good about everything and gave him a hearty "Hi there!" to which he mumbled a response and shared a laugh with his Japanese companions after our paths crossed. Oh well, I guess he was just as surprised to see a foreigner in suburban Nagoya as I was.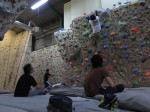 Not two blocks from gym is a park with some pretty good candidates for slackline trees. I'll have to come back here sometime. Moving on!
Big Rock is considerably larger than Aim, with mostly bouldering but it does have some high walls for ropes. The same plush crash pads line the floor, and the walls have the familiar grease smears from months of use. The gym isn't quite so well-kept as Aim, but the atmosphere is a lot more relaxed. I felt a lot more comfortable talking to the other climbers (many of whom were really strong!) and made a good friend in Tomo, who had studied in Arizona for college and spoke excellent English. He's familiar with the outdoor climbing in the area, so hopefully we'll get a chance to go out before I go.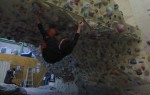 I got back to Iwakura and met up with Hiro and Shinya, and we went to a Yakitori place near the station. As we ate delicious grilled foods and discussed the way kids are raised in Japan, we enjoyed a "champon" of alcohol, the crown jewel being a glass of Kubota Man-juu. This sake is $15 (or was it $30?) a cup, and I'd say worth every penny. It was amazingly smooth, and when I drank the remaining sake from the Masu (wooden box the cup comes in), I could taste the difference the pine made in the flavor. It was a truly smooth drink. Even though I might never have it again, I learned a new way to savor the good things in life. Today was full of moments like that.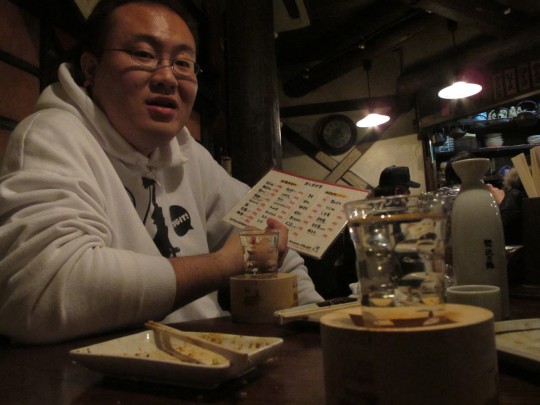 ---