Thursday, April 5th, 2012 in: News, Travel
Back to my travel stories…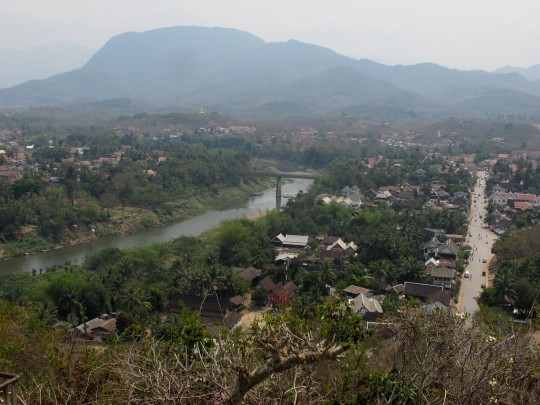 Luang Prabang is a jewel on the Mekong river. The popular tourist destination nods to its native and colonial roots while maintaining an almost comical rate of change and modernization.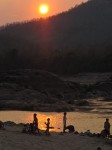 Travelers who have been there more than once remark at the incredible rate at which the city is changing, for better or worse. That said, I greatly enjoyed my few days in Luang Prabang, especially after the claustrophobic river cruise that brought us there.
Alice and I claimed we already had a reservation and pushed past the touts, determined to find accommodations ourselves. I realize that the touts are just earning their bread, but I'd grown quite weary of the gentle but constant harrassment, and they consistently lead you to a more expensive place. We found a new, clean place with nice double beds and a beautiful garden and a friendly cat lounging in the entry hall. This last feature is what sold me.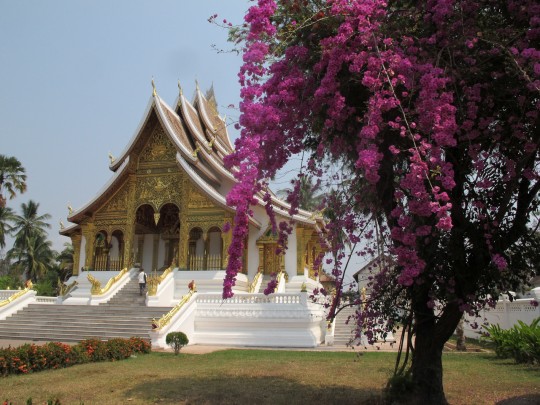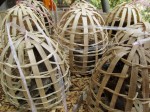 The nearby night markets were a major attraction for tourists, with rows of souvenir and food stalls. It was either our first or second night there that we were buying smoothies at one of the many juice stands in the night market when I caught sight of a girl in a red dress. She was passing us on the street, but as she drew near I felt a growing sense of familiarity. She had almost passed before I called out to her.
"Jana?"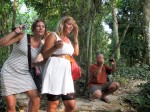 I hadn't seen her since she ran off with her South African friend in Palawan, about a month before. Remarkably, she had time and money for another vacation, which brought her to Laos of all places. She was traveling with a buxom Norwegian blonde whose name I'm embarrassed to say has escaped the cobwebs of my memory, though I do remember Johnny, the Filipino-American who was gunning for her like she was the last lifeboat on the Titanic. There was also Patrick, from Chicago, a funny guy with an interesting travel schedule. He's the one flipping me the bird.
We did a lot together over the few days we spent in Luang Prabang: walked around and visited the local temples; rented bikes and explored the larger city; ate delicious street food and enjoyed a never-ending array of fruit shakes. We did all this to the tout chorus of "you want go waterfall? You want go temple?" Although at first we were inclined to say no to anything the touts offered, our curiosity eventually got the best of us, and we approached one to charter a boat to the waterfall.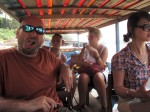 After some almost-frustrating negotiations, we struck a deal and set off in the Laotian longtail. It was a nice long ride down the river (you can take a 40 minute tuk-tuk or minivan but we decided to go the leisurely route), and I promptly passed out in the afternoon sun with a large Beer Lao in hand. We landed at a muddy embankment not unlike the one at Luang Prabang, and hiked up through someone's backyard into a small village where we transferred into the back of a pickup truck to take us the rest of the way along gorgeous green fields.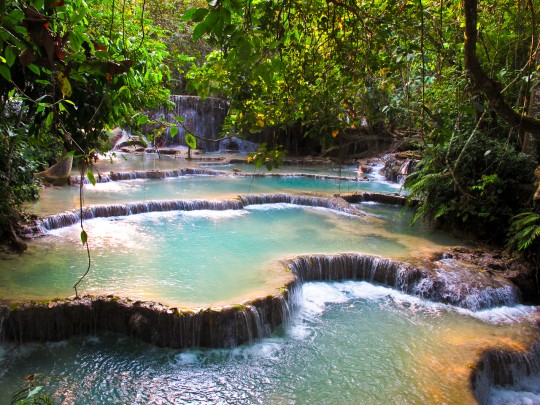 Kuang Si waterfall is one of the nearby natural splendors of Luang Prabang (about 30km to the south), and is thusly exploited for its tourist potential, which both seems to erode the natural landscape and spearhead its preservation. You pass through a mildly developed row of food and souvenir shops before paying the entrance fee and passing through the gate.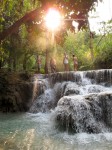 There isn't much of a "hike," just a short stroll up a well-maintained earthen path past a small, unexplained bear sanctuary to the bottom-most pools. The travertine falls created a cascade of terraced pools with smaller falls between them. The water was mostly turquoise but also a bit milky–I'm hoping from the mineral deposits in the water. Some of the pools were open for swimming, including one with a fun rope swing, though most of them weren't worth getting into. We worked our way up to the highest fall, a column about 30 meters high.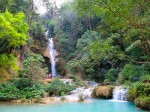 I would have been impressed if I hadn't already seen a photo of the waterfall from several decades ago in which that column was a curtain wider than it was tall. How things do change. After getting our requisite facebook profile photos, we walked back down to the rope swing pool to play some more before the ride back home. It may not be the most spectacular waterfall ever, but it was one of the cooler places we visited in Laos, and I'd recommend it to anyone passing through with a day to spare.
---