Wednesday, December 21st, 2011 in: News, Travel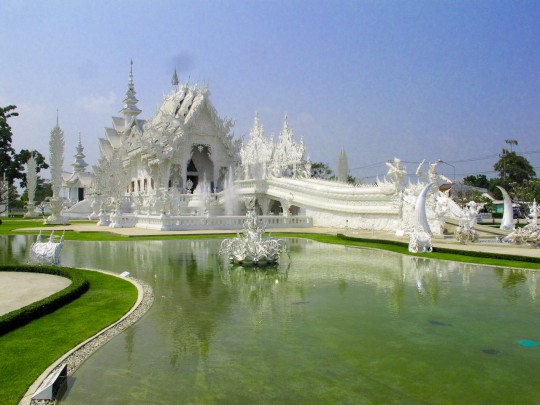 I knew very little about Laos when we jumped in the van that morning; going there was Alice's idea and she had a better idea of what she wanted to do, so I decided I'd just kick back and enjoy the ride. The minivan took several hours to get to the Mekong river that forms the border between Thailand and Laos, and we stopped in Chiang Rai, where an amazing temple was under construction.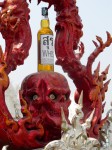 Wat Rong Khun (the White Temple) is probably one of the most beautiful and elaborate temples I've seen anywhere; it's done in a mix of traditional and contemporary style that packs so much detail, the temple is constantly being worked on. The artist responsible for the temple, Chaloemchai Khositphiphat, started construction in 1998, and reckons it will be completed somewhere between 60 and 90 years AFTER his death. He chose to make the temple white because he considers gold (the color of most temples in Thailand) to be suitable only for those who lust for evil deeds.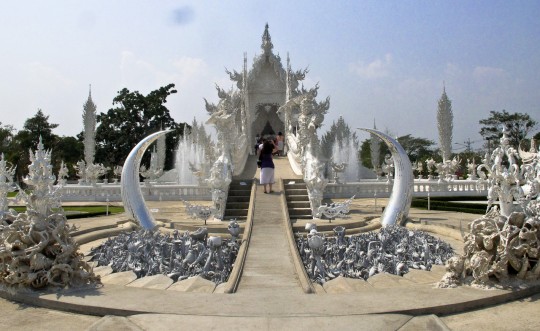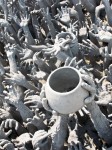 The entry to the temple was lined with elaborate warning signs against smoking and drinking, with ceramic heads hanging from trees. You walk through the gate and past some amazing sculptures, around a shallow reflecting pool to the foot of a bridge leading into the temple. The bridge extends over hundreds of arms reaching up at you, the hands of people trying to escape from hell. Large, intricate statues of the gatekeepers keep the damned at bay and you continue up to the main room. The main room has an amazing mural that wraps around the entire wall. The painting starts on the entrance wall depicting all the trappings of civilization and its evils, including pop culture icons like Spider Man, Doraemon, the Twin Towers, missiles and other military images. As you move towards Nirvana at the other end of the room, the mural changes to heavenly images of peace and beauty. Khositphiphat was actually there in the room, adding detail to nirvana. A lifelike wax figure of a monk was seated in the lotus position facing the entrance.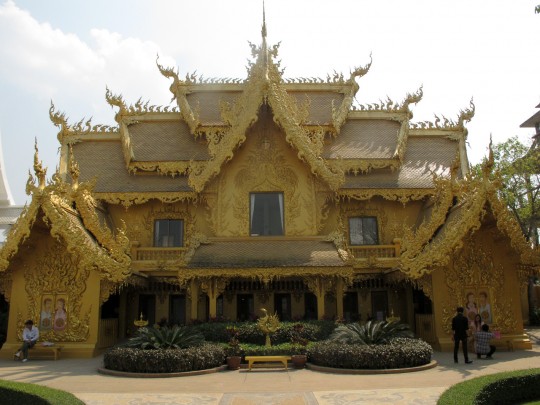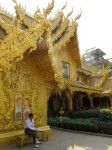 On the way back out, there was another building gilded in gold and just as elaborate as the temple that was now behind us. It was eerily symmetrical, aside from a sign on each side of the building which tipped me off that it was actually the restroom. At least on the outside, it was the most amazing bathroom I'd ever seen. I heard no call of nature so I regretfully neglected to even peek inside, so months later I'm left wondering what wonders were contained within. Back at the entrance there was  a small gift shop that sold reproductions of Khositphiphat's work to help support the temple, if you're into that sort of thing.
The driver started rounding us up to continue the journey, we still had a border to cross that day.
---