Saturday, July 30th, 2011 in: News, Travel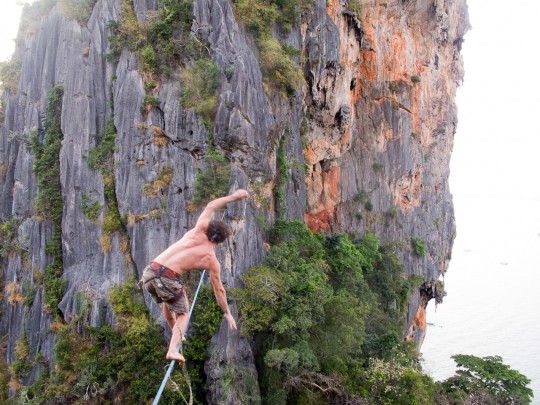 As I explained in Perserverance – The Tale of a Thailand Highline, I'd only been leashed to a slackline once before, and it was relatively low one at that. 10 meters in the air doesn't seem like much when there are people walking hundreds or thousands of feet in the sky, but being tied into a safety line doesn't stem the tide of adrenaline pumping through your body. That fight-or-flight reaction is one of the most frightening and exhilarating experiences one can have. I never considered myself an adrenaline junkie–despite my antics I don't usually get that addictive rush that drives so many over the edge. Even when I climb I tend to forget where I am and focus solely on the task at hand; once I'm on the rock it's easy to forget how far or high I've pushed myself. But there's something about the precariousness of the highline, the sway in the webbing under your weight. The winds remind you that you are standing in the sky. You feel so exposed, surrounded by nothing but the air, with a thin slice of fabric the only thing holding you up. It's so easy to fall. It's so easy to wonder whether the anchors will hold up, and what would happen if they were to fail. You don't want to fall, but you have to be prepared for it.
It's just a slackline, everything else is in your head. It's an exquisite anxiety.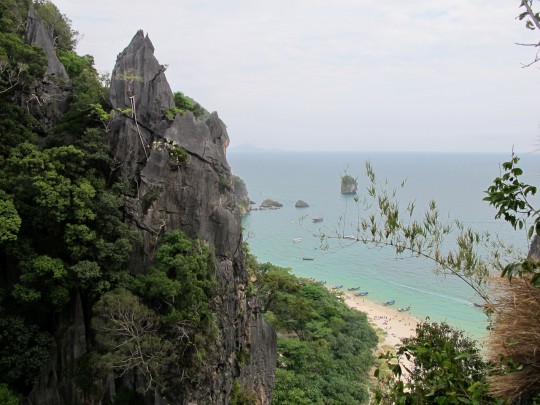 As I'd said before, Grischa had confidence that I could man the new highline, but there were a lot of factors working against me. My feet had been mangled by a series of infected cuts I'd been accumulating since I was in the Philippines. I stepped gingerly everywhere, and took more than my fair share of rest days for no other reason than I didn't want to hike up to the crags. I'd only been on a line longer than 10 meters once before; I stumbled upon one at Camp 4 in Yosemite, and although I manned it rather easily, a long lowline and highline are two different beasts. My highline experience was negligible, which just compounded my frustrating lack of confidence. A long lowline or a short highline might feel a manageable step, but Perseverance was a daunting combination that showed me how little experience I really had. Despite having a rather long slackline pedigree, I stuck to a small niche of this multi-faceted sport, and now I was being confronted with my own insecurities.
I'm not saying this to rationalize my disappointment on the highline, but to explain the headspace I was in when Grischa invited me to join him in the clouds. I had already failed in my head, which made actual failure inevitable. That was my biggest mistake.
I considered backing out, and when I woke up late the following day, I began to assume I'd missed my chance. I grabbed my bag and put on my hiking shoes, just in case, and wandered out for some breakfast. The guys weren't at the breakfast buffet, and the main drag was empty as I had a breakfast smoothie at Chicken Mama's. I wandered out onto the beach, slowly working my way towards Railay, and finally saw an acquaintence belaying a friend for a morning climb. Apparently I had just missed the guys by about 10 minutes. It was decision time, if I hurried I could easily catch up with them, but I'd be lying if I said I didn't hesitate for a moment. I opened my pack and realized I hadn't brought my harness or my climbing shoes with me, I also had forgotten water. I was unprepared for this in so many ways.
No, I told myself. I'm leaving in two days; this is probably the only chance I'll get. I slung my bag across my back and began to run in the direction of the Thaiwand wall.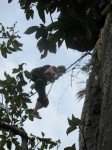 I got to the southern end of Railay beach when I finally saw the guys. They were at the base of the approach hike and were taking stock of their gear. Along with Grischa were Edward, Steve, Brian and Luke, all guys I'd met at various points and had either climbed or slacklined with. Next to Grischa, Edward had the most experience with highlines, having boasted of setting up several badass lines back home in Tennessee. I'd met Luke when I first swam out to the waterline at Phranang. Brian and Steve were from the group of American climbers I'd fallen into. It was a big group to take up to a fresh line, but everyone was excited about it. The mood ran from Edward's extreme confidence "Man, this is a little longer but it's lower than this one line I put up back home," to my quietly freaking out. Steve waved at the line, "I just want to get up there and shit myself." Grischa quietly took the lead. I felt bad that he was hauling up so many newbies; considering all the sweat and blood he'd put into this line, I felt like we were just riding on his coattails, reaping the benefits of all his hard work. If anyone deserved a shot at the second man, it was Preston, but he was nowhere to be found.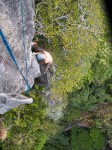 We took the trail that leads up to the Candlestick, one of Thaiwand's most popular multi-pitch climbs, but before we hit the base of the climb we broke left, cutting up through the dense jungle off-trail. Grischa had made this trip many times, and knew the most efficient path. Things started to get hairy when we reached the traverse that brought us around the backside of the wall. The rock was sharp and not well-suited for human traffic. I was grateful for my thick-soled hiking boots; this was the first time I'd worn them since I was hiking through the Cordilleras. We followed Grischa around and up. There was a short climb after the traverse that led up to the first anchor; we set up a well-intentioned but ultimately useless belay for peace of mind. Once I stepped out onto the climb, my view was freed from the trees and I had a perfect view of Railay beach. Grischa was the first to shimmy across the line, followed by Edward, Luke and myself. It wasn't as scary as I thought to hang onto the underside of the highline; I enjoyed the view immensely, and wished that I had more time. My arms burned from the effort and I reached the other end of the line quite pumped. Our perch was crowded and uncomfortable; no amount of shifting could make up for the sharp rocks piercing our butts. I gave Grischa his harness back so he could be the first to walk. He set the example, cleanly manning the line several times with ease. "This is his line, he owns it" I remember someone saying. A couple butt bounces later he handed the 3 meter leash over to Steve, who had immediately volunteered to be next.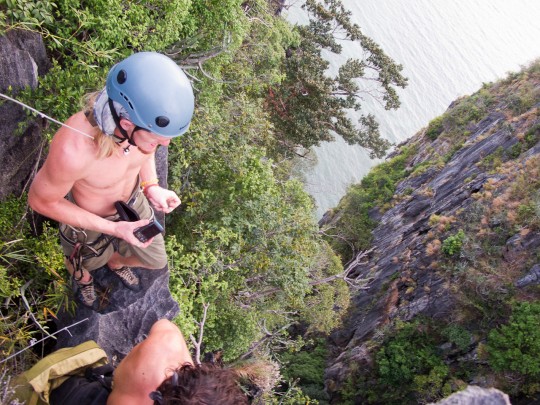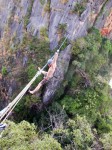 Steve got his cheap thrills, obviously enjoying taking the whipper a few times. Edward was next, managing to stand but fell after his first step. He returned to the anchor after some more struggle. The line proved to be a formidable opponent. Brian was next, managing a stand-up but after falling a couple times he took a nasty whipper, grabbing the line with one arm and likely dislocating his shoulder. We had to haul him back in and tie off a sling for his arm; the line had claimed her first victim. Luke stepped up and met similar results, returning without taking a step. It was starting to get dark, and I had run out of excuses. I slipped Grischa's harness back on and tied into the leash. Batter up.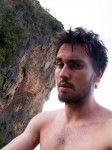 I had to scoot over the pulleys and leave the safety of my spiky perch, sitting about 2.5 meters down the line and 70 or 80 meters off the deck. I felt surprisingly stable on my seat, and didn't much feel like standing up at that point. I felt foolish for not having practiced my sit-starts more as I clumsily tried to rise to my feet. Unfortunately, I hadn't bothered to learn many sit-starts, and the only ones in my repertoire seemed much better suited for low tricklines than long highlines. I tried to rise from my seat onto my right leg, with my left acting as a counterbalance. I bounced into a stand but quickly lost it, dropping off the line and grabbing it under my armpits as I'd been instructed. I hauled myself back up and repositioned for another go, but the long line just had a different feel to it; I wasn't used to a line with that length and tension. Down I went again. My third attempt I straddled the line, leaning forward and dropping my right hand onto it, bringing my left foot up behind me and planting it on the line. The real downside to this move is that it makes you face directly down, which not only reminds you how high up you are, it takes your eyes off the focal point at the other end of the line. This maneouvre is challenging even on a short line, but I managed to hold the entire line steady as I brought my right foot up and placed it between my other foot and hand. I stood, shot my gaze forward and held it longer than before. My friends were shouting encouragement. I took a step, then lost my focus and fell again. By now the sun had disappeared and we were looking at a downclimb in the dark if we weren't careful, so I reeled myself back to the guys and we started to pack up for the day.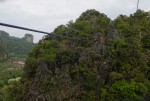 We abseiled from the second anchor, another thing I didn't have too much experience with. "Just hold onto this and belay yourself down," Steve showed me the simple rappelling technique, "just don't let go of this line or you're dead." Got it. Luke and Steve went first, followed by Edward, then Brian so we could provide assistance from above and below in case anything happened. I went next, and Grischa brought up the rear. The rope wasn't quite long enough, so we had to improvise by rapping into a tree and downclimbing from there. The walk back to the beach felt like it took 10 minutes, but it was probably much longer than that. When my feet hit the sand, I suddenly felt drugged, as if all the energy had been sapped from my body. I tried to hurry back, for I truly felt as if I was going to pass out on the beach and get swept away by the tide. It was dark enough to require a headlamp by the time we reached the footpath over the hill, and we reached Tonsai again with few words spoken. In retrospect it might've seemed like I was silent out of dejection, but in reality I was elated and more exhausted than I had ever been in my life. I tried to go to the bar with the guys, but it didn't take long for me to abandon ship and race back to my comfortable bed. Before my head hit the pillow I was dead to the world.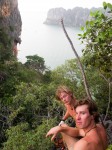 The following day I still felt drained, and realized that I might've actually come down with something. I spent the entire day lounging around, lazily trying to regain my strength. I felt a little better by the evening, and bought Grischa the drink I felt I owed him. He showed me the "Chongo" sit-start, named for the infamous Yosemite dirtbag and slackline legend who introduced the sport to Dean Potter. I knew him better as the homeless-looking guy who had set up camp at my gym for a few months back in '09. Nevertheless, after a few attempts I felt much more confident in my sit-start, and I wanted to go back up to the line armed with my new knowledge.
Alas, it wasn't meant to be. My boat for Phuket was leaving the following morning, and I had to say goodbye to all my friends and pack up for the next adventure. Grischa tried to convince me to stick around, but I'd already committed myself to a week at a Buddhist monastery in the north, and if I didn't leave now I would probably never make it up there. There will be other highlines, someday. I'm sure of it.
Postscript: Although I labeled it above a failure, I considered this to be one of my coolest experiences in Thailand (and I've had a few good ones). In fact, beating the demon of doubt and just going up there to join the guys was a huge step for me, and it taught me much about what I need to know in order to succeed in the future. As I've said before, the first step is always the most challenging one for me, and that day in Thailand, I finally took it. All the thanks are due to Grischa for getting me off my butt and on the line.

---