Friday, July 8th, 2011 in: News, Travel
The Low-Down: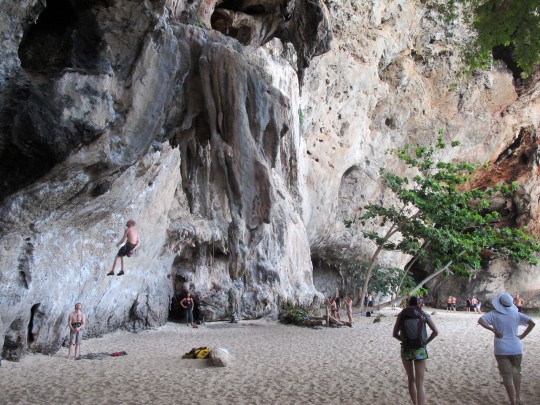 Tonsai (Ton Sai) is a beach village in Southern Thailand, offering a combination of inexpensive accommodation and great rock climbing routes that make it popular with both backpackers and climbers alike. Compared to the resorts of neighbouring Railay and Ao Nang, it's relatively rough around on the edges; in particular, the water isn't too great and the beach is unsuitable for swimming, becoming quite rocky as the tide goes out and getting pretty much flooded when it comes in. This makes it less than ideal to build a fancy resort, but PERFECT for dirtbag climbers, and combined with the beautiful scenery and awesome limestone cliffs, Tonsai/Railay is a must for any traveling climber.
Access:
There's no overland access to Ton Sai, so all visitors (and supplies) arrive by boat. You can catch a long-tail from Ao Nang for a set price; it's an established business there like a taxi service (with its own ticket window), but if you're trying to catch a ride too late in the day you might find yourself haggling with a boatman for several times the regular fee. You can also apparently catch a boat/ferry from Krabi town to Railay East , but I haven't done this myself. It's also possible to go straight to Phuket (and I assume the opposite is true), which is about a 3-4 hour ferry ride from the other side of the bay (about 600 baht). Travel arrangements can be made from Tonsai or Railay to just about any other part of Thailand, but closest and most notable is probably Koh Phi Phi, due south of the peninsula. The closest airport is in Krabi, which is serviced by Air Asia.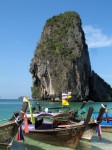 If you're arriving from Krabi town/airport (which most people are) it's usually quickest and easiest to get a taxi (I took a bus but it took much longer than expected and had no A/C) to the beach in Ao Nang and then share or charter a boat from there. Boats do run directly from Krabi to Tonsai, but they run infrequently; you may end up walking from Railay to get to Tonsai.
To get to Railay from Tonsai, you can take a quick water taxi, but there are three ways to reach Railay on foot (for free):
1) At low tide you can walk around the rocky outcrop which separates Ton Sai from Railay (10-15 minutes). This route obviously has the least elevation change and is most direct, but the scramble over sharp slippery rocks can be perilous; flip-flop wearers be forewarned.
2) Use the obvious path at the South end of Ton Sai Beach along the base of the cliff, up and over the rocky wooded area. You'll pop out on the North side of Railay West (10 minutes). Most intense elevation change of the three, but still not too strenuous.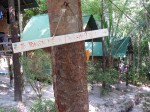 3) The least used option is a longer trail through the Jungle. Walk away from the Ton Sai beach along the road where all the Bungalows and Resorts are. When you get to the fork in the road after the climbing school/bar turn (East) and continue on the road uphill. Eventually you'll pass ALL the Bungalows; continue on the obvious path and you will eventually pop out on Railay East near the Diamond Cave area (15-20 minutes). Although longer, this trail is smoother and generally easier to walk than the shorter one. Good for direct access to the Railay East party scene and cheap internet.
None of these options are possible at night without a flashlight/torch, and the jungle paths can be slippery and treacherous after the rain, and the low tide walk is always wet and slick. You DON'T want to take a chance and get injured here, it'll take forever to heal.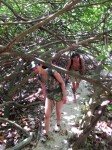 The only way to get around Tonsai itself is on foot. The beach and the main road act as the primary thoroughfares for the area, getting you from bar to bed. You can explore the whole area in no time. If you're a lazy slob, you're probably staying in Railay, where your resort may provide you with a golf-cart shuttle service to drag your fat ass around (seen it), but otherwise the whole area is pretty much devoid of motorized vehicles (good riddance).
You can paddle around in a rental kayak if you'd like. It's also a useful to help your approach for deep water soloing, if you're renting a private longtail for the day (cheaper than the guided trips when split amongst a group).
Stay
There are several options in Tonsai for accommodations, most are of the bamboo bungalow variety, with prices dependent on the season. I visited in mid-february, and split a room at Andaman that was perfectly serviceable and relatively quiet despite being rather close to the restaurant and road. The beds were comfortable foam mattresses (two double-sized beds with mosquito netting), with a fan we never used, a wardrobe we never used, and a private bathroom. We paid 500/day for the both of us. There's no hot water in the affordable places. Some people found cheaper accommodation, usually in the form of a tent or hammock somewhere. While you may pay as little as 100 baht (even in the high season) or nothing at all, you may also be sacrificing a lot of comfort, and will have to rely on the kindness of others when it comes to using the toilet and showers. If you take this route, you will probably be bouncing around a lot, sponging off your friends.
Special note for Couchsurfers: I tried to contact fellow travelers on CS before I came, and even got few responses, and I ended up meeting NONE of them while I was in Thailand (not for lack of trying, I messaged them and even got a phone while I was there, just nothing came of it). Not that you shouldn't post something like "hey I'm gonna be there at this time who wants to meet up and climb/share a room/whatever," but nothing is guaranteed, and it's pretty hard to make arrangements and get in touch with people, as internet is scarce and expensive. You'll just have to go and make friends; unless you arrive together, most climbing partners/roomshare/drinking buddies are made on the fly, so brush up on those social skills!
See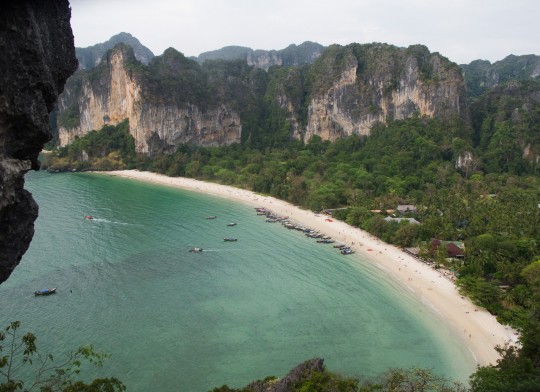 Tonsai is more of an activity kind of place; aside from the beautiful views from the beach bars or approaches to the climbs at melting wall (the photo above is a view of Railay West, from the backside of Thaiwand Wall). There's is a bamboo ladder up to a lookout point, near Freedom Bar at the base of the Tonsai Wall; watch your step. It is worth visiting the Phra Nang shrine on Phra Nang beach, which is either a 30 min walk away or a 20 min kayak. Thai women come here in the hope of increasing their fertility, and the shrine is adorned with wooden penises. Quite a sight! On your way there from Railay East, there's a steep path which leads you up to an impressive lagoon (which I forgot to check out myself!)
Do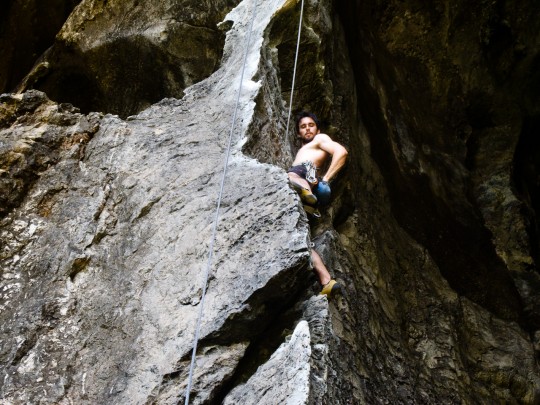 CLIMB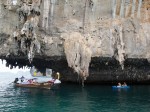 duh! The entire Railay Peninsula offers superb limestone climbing. Rock climbing is the primary draw for visitors, hosting several climbing shops, schools and guides, for a wide spectrum of options and prices. Shops will also rent out gear, which is good if you neglected to bring any with you, or if you don't want to ruin your shoes on a DWS (deep water solo) expedition. Alternately, if you're planning to stay longer and don't want to drain your resources on rentals, there are bulletin boards where people sell their used gear. One note: despite the startling number of slacklines in the area, webbing is nowhere to be found.
With so many climbers in the area, it's not hard to find climbing partners, though not everyone is pro so be careful whom you pick. You certainly don't want to partner with me for a run up the area's many multi-pitch routes. Try to find someone with equal or greater experience than yourself. The grades are pretty soft, providing a holiday ego-boost, but there's still hard stuff for sure. The ocean air is absolute murder on gear, particularly carabiners and bolts; and there's currently an effort to re-bolt the entire area with titanium (Thaitanium Project). Scout out the bolts first, and don't climb anything that doesn't look safe! The official guidebook has dates and safety ratings for each climbs.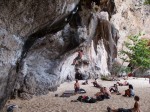 The overhung cliffs also provide for some great bouldering opportunities, particularly on Tonsai and Phra Nang beaches. Soft sand, soft landing. I was out at Phra Nang beach one day and it started to pour just as I was leaving; I stayed under the overhung stuff and kept dry and bouldered for the rest of the day.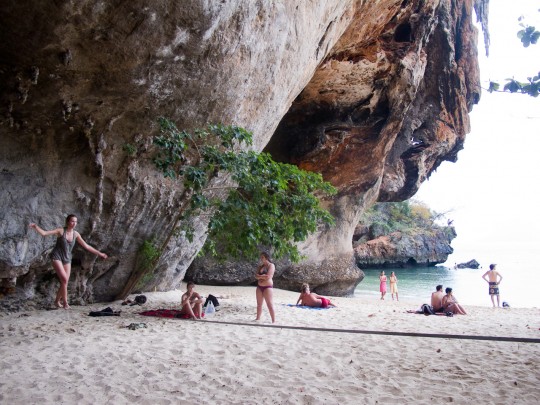 Slackline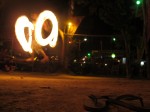 With pretty much a slackline at every bar, there's no shortage of chances to test your balance. If you don't slackline, try it! Some are short and stiff, others are long and good for surfing. Some bars have guys who will do a little show every night, and incorporate fire poi into their performance. Small World has two decent lines set up, and has the best fire show each night, put on by Wee, one of the barmen: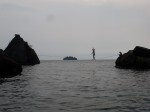 When I was there, one of the guys who brought his own webbing (as stated above, webbing is really hard to find in Thailand) and set up a waterline between two big rocks just off the southern tip of Phra Nang beach. You'd have to swim or kayak out to it, but it was really cool (1-2 meters off the water, I recommend going at high tide or you'll be scrambling over barnacles on your way up the rock). The bolts are there, but the line is not permanent, so you might want to ask around to see if anyone's set up a water line there. There's another set of bolts just off the north end of Tonsai beach, but it doesn't look nearly as clean a landing.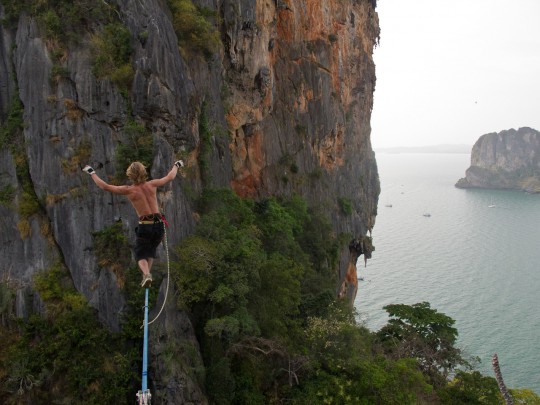 I met the coolest guy there, who personally bolted and rigged a highline behind the Thaiwand wall. He even took me out there to try my first real highline. I could barely stand on it, but it had to be one of the coolest experiences of my life. I don't know how many highlines have been set up here, but I'm sure this isn't the only one.
Dive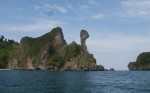 There's a SCUBA school that offers PADI certification over a 3-day course. Frankly, I'm glad I passed at the chance and did it elsewhere. If you're going to dive in Thailand, Koh Tau has better diving and more, cheaper schools, which makes it more popular and thus, pretty crowded. I ended up diving in Malaysia and my instructor used to work in Koh Tau and knows the shop in Tonsai (or he might've taught there as well). He had a few horror stories to share, and told me I was in a FAR better place, especially since the school I went to actually made sure we understood the material before they threw us into potentially life-threatening situations.
There's apparently good snorkeling around Chicken Island. I pretty much stayed out of the water aside from going DWS, the water near the beaches isn't very pristine.
Eat, Drink, and be Merry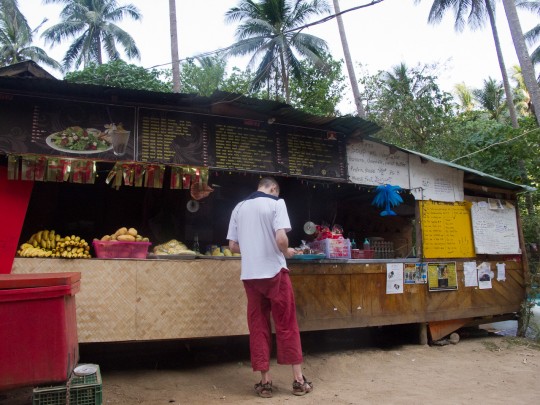 Most of the places to stay in Tonsai also have restaurants; some are more affordable than others. Green Valley has a decent breakfast buffet for 100 baht (at least in high season); when I wasn't going there I was hitting up Chicken Mama on the main stretch for a pancake and a fruit shake.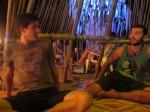 The Boatman's fish dishes are excellent, but the only time I made it there they were really busy, and took forever to get us our meal. Plenty of restaurants along the beach offer fine thai fare; it's all just about evenly overpriced in the high season. Beers aren't terribly cheap, but they are plentiful, along with a handful of other intoxicants to the tune of nonstop Bob Marley. The overall atmosphere is laid back, to say the least.
A word of caution, not that it is guaranteed to do any good. Be careful about what you eat; there's little to no refrigeration in the area (all electricity is on generators, mainly at night only), and you don't want to spend your vacation huddled in the fetal position on the bathroom floor.
Above all, make some new friends, climb some fantastic routes, enjoy the sun and the view, and have a great trip!
One last piece of advice: take a fully stocked first aid kit. Oh, and don't mess with the monkeys.
---