Sunday, July 3rd, 2011 in: News, Travel
I awoke to a chorus of police officers speaking Malay.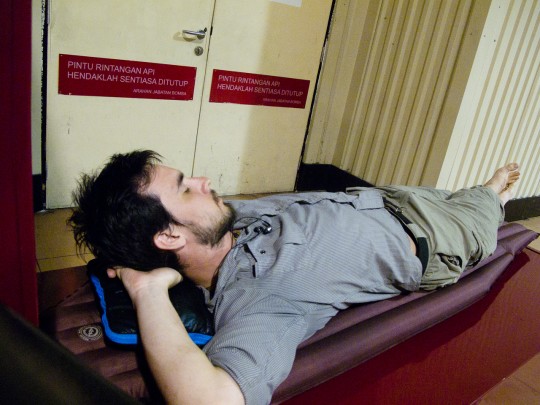 My first thought was that I must have done something wrong, and I pretended to still be asleep. I mustered the courage to crack an eyelid, and realized they were all just having a smoke break, and I'd chosen their usual hiding spot for a bed. They ignored me and I did my best to return the favor, squeezing another hour of sleep out of the morning to the soundtrack of foreign banter. My sleeping pad once again proved its weight in gold, as I awoke refreshed even though I'd only had a few hours of sleep.I thought my laptop case was a little frivolous before, but it made a spectacular pillow, and I had quite a luxurious rest considering I was sleeping outside an airport.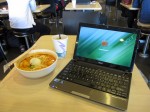 The Kiwis arose from their cardboard beds on the other end of the room, and we made our way to get some breakfast, which they generously paid for. "We exchanged all this money cause we thought we were going into the city, but it would have cost a ton of money to store our bags, so we're stuck in the terminal for 24 hours anyways." Sometimes, traveling on budget airlines isn't worth the hassle. My flight passed without incident, just a little over an hour later I was disembarking at Krabi. Sometimes, budget airlines are worth it.
The terminal was simple but had booths for bus tickets, rental cars, money exchange and anything else a fresh interloper such as myself would need. As I exited the airport, I braced myself for the onslaught of offers for rides and tours. I gripped my bus ticket, ready to wave it at touts to shoo them away like flies, but the outside of the terminal was eerily quiet. I boarded my bus in shock and took a seat next to Joel, a Swiss/Canadian on vacation. "Where you headed?" "Ao Nang, then Tonsai for climbing." Score. We acquainted ourselves over the next sweaty 40 minutes on the bus, threading between impressive limestone cliffs. "The real climbing is on the other side, you'll see."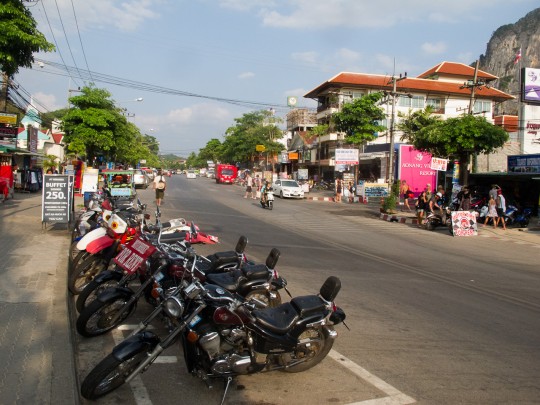 Ao Nang has all the trappings of civilization, from Starbucks to 7-11. Tourism has treated this place either very well or very poorly, depending on how you see it. Europeans vastly outnumbered locals along the main drag, a never-ending strip mall with apartments piled atop the storefronts. Everything was surprisingly clean. It wasn't altogether unpleasant, just… not the scenery to which I'd grown accustomed. The bus dropped us off right next to the beach, a shallow sandbar lined with longtail boats headed around the impassable cliffs to the climber's paradise of Tonsai and Railay.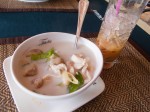 We stopped at a clean open-air restaurant and paid tourist prices. My Tom Kha Gai and Thai iced tea were just as I remembered from my favorite restaurant back home, and the price wasn't far off either. Joel stopped at a tailor to order some suits, and I wandered about to get a SIM card for my phone. Even if I have no one to call, there's something reassuring about having a working phone wherever I am. I wasn't exaggerating when I called my iPhone a security blanket.
Wrapped in the warm embrace of new-world technology, we set out for the short boat ride to the karst cliffs of my dreams. My gaping mouth caught swarms of bugs as I gawked at the pristine toufas vaulting their way up the walls. I'd never seen anything like this before.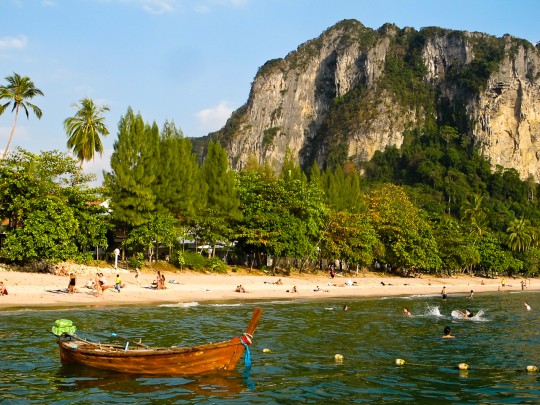 Tonsai is full of rock-hard abs and white people with dreadlocks, a sure sign of a climber's haven. Dirtbags the world over have descended upon the place, taking advantage of the fact that its mediocre beach repels the resort crowd, and the pristine cliffs surrounding it harbor some world-class climbing.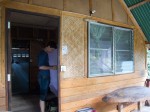 We holed up in the Andaman Resort, a village of huts creeping up and away from the beach, splitting a wooden and bamboo hut which was surprisingly luxurious for about 8 bucks a night each, with fantastic foam mattresses. After dark, we wandered down to the beach to see what was happening.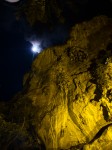 A few headlamps glimmered on the side of the Tonsai wall at the south end of the beach, climbers descending from the classic multi-pitch Humanality. We shared a beer with an old acquaintence of Joel's and a Californian touting around an ukelele. Friends, it seems, are not hard to find in these parts. I spent the rest of the evening playing on a short slackline at the bar, taking turns with fire dancers in entertaining the crowd. A guy had juggling balls and crystals for contact juggling, which he kindly let me play with (I'll stop you right there, 'cause your jokes are lame). That's when I thought I'm going to like this place.
For the after-party, we went to another bar with slacklines set up, and one of the Thai guys did a fire show and then jumped up on the line, never skipping a beat. That's when I knew I'm going to like this place.
---