Friday, May 6th, 2011 in: News, Travel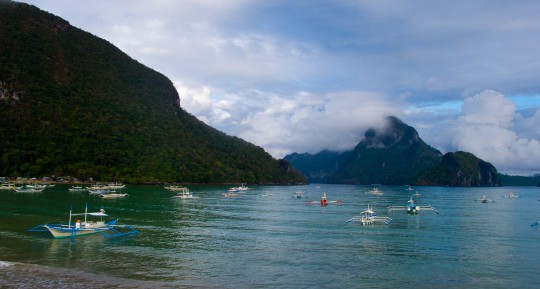 Saturday morning found me in a cafe having breakfast with Angelito, TJ, Gonzalo, Patrick and his wife, the Couchsurfing friends I'd made through Sharon the day before. Everyone was headed back to Puerto Princesa that morning except TJ, who would be joining Jacob and I on the island hopping tour. The day before, while I went kayaking with some of the guys, Jacob managed to get trapped in our guest house bathroom, requiring the doorknob to be smashed off with a sledgehammer to free him. Afterwards, he went for a hike to clear his head, and got chased by a pack of wild dogs. With a string of luck like that, I hoped we were ready for some good karma.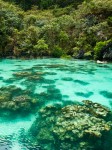 When we got to the boat rental place, there was a suspicious number of people waiting to get aboard our boat. We knew we'd probably have to join someone else's group, but we thought it meant an extra 5 or 6 people on the boat. When we asked, the head count was 14, comprised mostly of Chinese families replete with dottering mothers, kids in full wet suits and fathers in crocs and dress socks. "This isn't our crowd," Jacob looked around desperately for a way out. We finally settled on hiring a private boat for the three of us, costing only a pittance extra when weighed against the freedom we gained. It would prove to be a decision we wouldn't regret.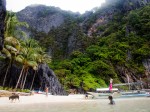 The tour took us on a set course, apparently renting a boat doesn't mean you get to call the shots. The lagoons were breathtaking, and our annoyance rolled into acceptance, then awe of the astounding landscape. The water was clearer than any I'd ever seen. I'd never seriously gone snorkeling before, but this was truly something else. At one of our last stops, I even found some decent climbing.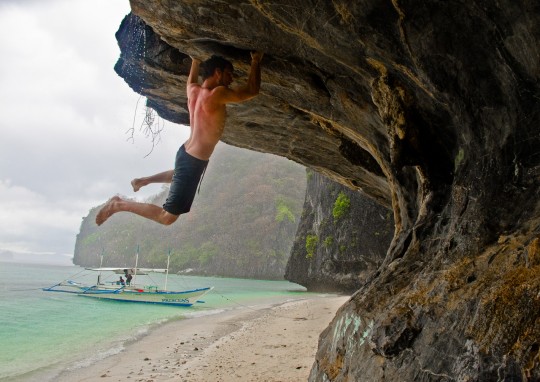 The day made our entire trip to El Nido, for all its foibles, worthwhile.
---