Wednesday, April 6th, 2011 in: News, Travel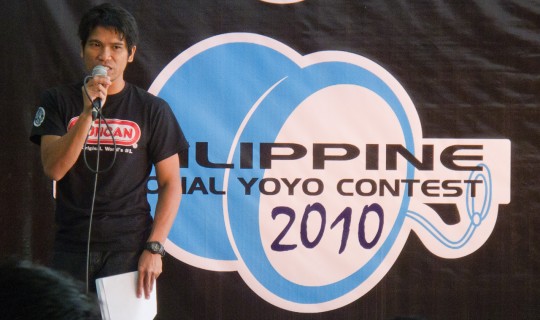 When I hung out with Hiro Koba and the boys from Flipspin, I knew I couldn't sacrifice going to the Philippine Nationals, and I extended my visa so I could fit all my plans into my time in the country. After a week or so of bouncing around Northern Luzon, Janet and I returned to Manila the morning of the contest, flagging down the ghettoest night bus ever from the side of the road in Urbitztondo. I asked the guy if the bus would stop in Makati, and he nodded vigorously in reassurance, but when I awoke from an uncomfortable sleep huddled next to Janet on the broken seats getting blasted by an AC we couldn't turn off or redirect, I realized that we were in Quiapo, one of the least… desirable parts of Manila to be caught in. We got directions to the nearest LRT station, and waded through the crowds of people gathering for Sunday service.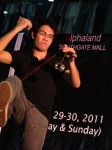 Joemar was waiting for us at our transfer station. He and Janet had decided that this was the year to make money, and although she had managed to lose her money pouch, he got contracted to exorcise some demons from a house. "I just set some candles and salt around various parts to settle the spirit and send it on its way… it wasn't a real haunting, because the couple actually manifested the spirit on their own." He was a high roller for the day, treating us to breakfast and whisking Janet off to a fancy hotel room he got for them. I headed back to Troy's apartment to drop off my things in preparation for the contest, rolling my eyes at the overzealous security guards scrupulously analyzing the contents of my backpack for the third time that morning.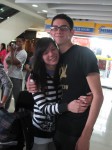 The contest was being held at . a mall just one stop away from Troy's apartment, which was already surrounded by the Greenbelt and Glorietta malls. I don't understand how the local economy can subsist on so much consumerism, but I digress. The stage was set up in an ideal spot, allowing passers-by on multiple levels to catch the action. The setting sun cast a strong reflection off the vinyl banner, but otherwise it was a pretty decent location. It seems that malls are popular venues for yo-yo contests in Asia; they're the cleanest public spaces, and probably the best equipped for performance-based competition. Convention centers and open-air public spaces just don't seem to work for this purpose. I suspect that an added bonus is the mall itself provides a constant stream of onlookers who quickly get sucked into the action, and it also helps that there's plenty of A/C to keep the crowds cool.
I tracked down the guys and chatted them up a bit, snapping photos of the players. As they came up. The five divisions were mixed up, which I think made it more interesting for spectators (it can get pretty repetitive to see twenty 1A freestyles in a row), but probably made things harder on the poor judges, for whom I grow more and more sympathetic with each competition I visit. Other Flipspin players who saw me hanging out with Hiro, Edmund, Paul and Ernest were eager to introduce themselves, and I found my posse growing ever larger. I wasn't the only "celebrity" guest at the contest, as the Filipino players had the rare honor of 11-time world champion Shinji Saito coming to the show. Shinji was a rather quiet guy, devoid of the bluster you might expect from the record holder for global yo-yo titles. After the contest he got swamped with requests for autographs and photos, suckerpunched by celebrity worship and papparazzi. I got swept up by association, as many young players asked us to pose together for photos. I snicker at the thought of people sorting through their photos, going "yeah! That's Shinji Saito!! And uh, that white guy." The look on Shinji's face said about as much as you need to know about celebrity to know you don't want to be one. "Otsukaresama desu," I patted him on the back. "tsukareta!" was all he could manage to mutter. Troy had an appointment to get to, and Joemar and Janet showed up shortly after to catch the action I'd been hyping up the past two weeks.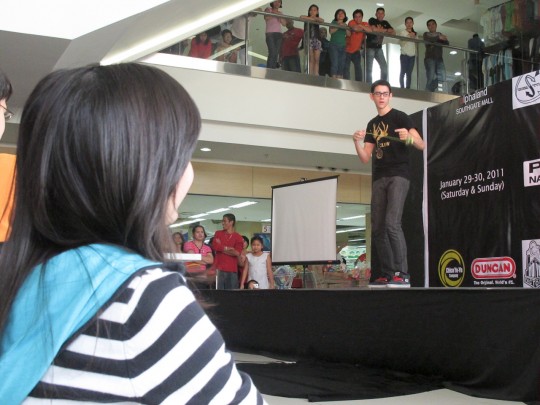 Perhaps it was because I got to know the players before they went on stage, but this was the first contest I really felt interested in knowing the results. The guys put a lot into their freestyles, and it paid off. Ernest grabbed 1st place in 1A, no doubt with extra style points for coming on stage cloaked in a black cape. He sat on the side of the stage with Carla, his girlfriend and biggest fan, overwhelmed that all that hard work had paid off. Paul won the off string division, apparently his first title, despite being a long standing member of the Duncan Crew Philippines. Hiro competed in both 2A and 5A, placing in the top five in both divisions.The counterweight division was taken by Bryan Jardin, a short but animated kid with braces and a permanent smile. After the results were announced, there was a special performance by Shinji, showing just how amazing looping play can be. He was the only one unimpressed by his performance, nitpicking the handful of mistakes no one else managed to notice. Also there as a special guest judge was Iskandar Shah, a Singaporean player who specialized in using two counterweights. He also put on a special performance, wowing the crowd as well. It was cool to meet him, because about a month before, he randomly added me on Facebook. I asked Hiro who this guy was. "He's a cool guy, and really good at yo-yo." Fair enough.
Here are the top 3 in each division (Thanks to Hans Madula for sending me the results)
1A
1.Ernest Kahn
2.Joseph Junsay
3.Marco Lasam
2A
1.Kyle Capiral
2.Aaron Gomez
3.Hiro Koba
4A
1.Paul Murillo
2.Sean Perez
3.Joseph Longboy
5A
1.Bryan Jardin
2.Paolo Alto
3.Hiro Koba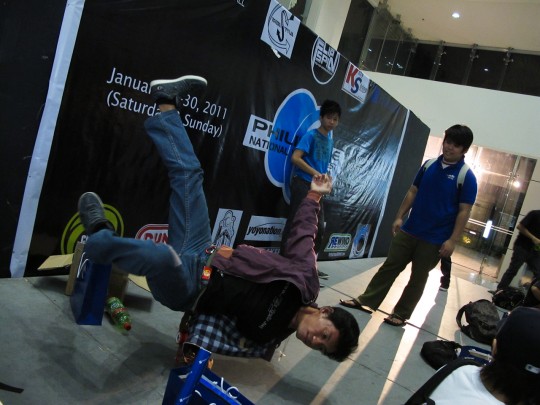 The guest performances were followed by a surprisingly fun yo-yo battle. Much like a b-boy competition or rap battle, the players were set against each other in a head-to-head fight to the death. It turned more into a hilarious dance battle, invariably incorporating yo-yo tricks in the weirdest ways. It was tons of fun to watch, even though no one had any vested interest in winning the battles. It was a good way to unwind after the competition, and it was followed by everyone caravanning to the DJ's house for the yearly traditional post-nats group dinner, where much delicious food was consumed and more yo-yos were thrown.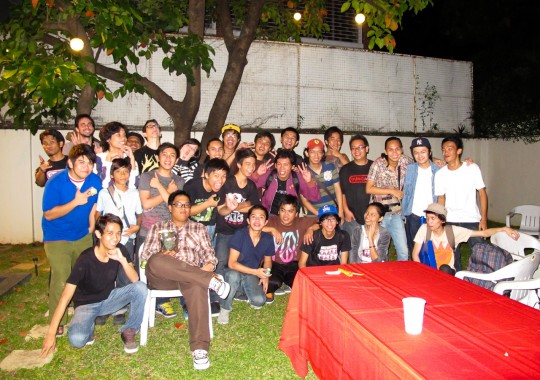 I asked Shinji what made him decide to come to the contest here. He confided that at the international contests, aside from the other Japanese players, it's the guys from the Philippines that he gets along with the best. They're just cool guys, and I always have a lot of fun when they're around. I think that's a fair assessment, I've already decided this won't be my last trip here, and I didn't even need a yo-yo contest to realize that.
---