Sunday, May 1st, 2011 in: News, Travel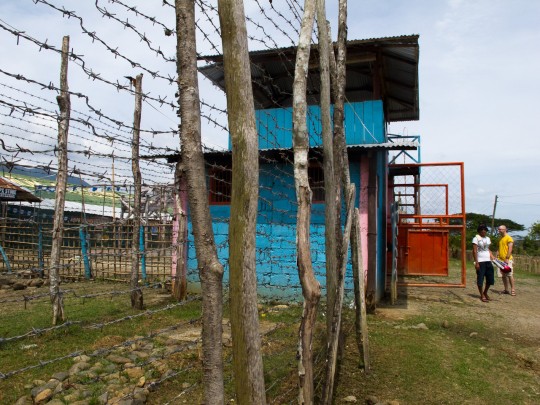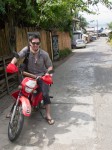 The next day, Jacob had a new challenge for me, and it came with a motor and two wheels. Though my dad had a motorcycle he didn't often ride it, and I never had a chance to learn, so I was a little apprehensive. As comfortable as I am on a bike, throw a motor into the mix and suddenly it's a deathtrap. It turns out my apprehension was unnecessary, as I was comfortably scooting around in minutes. The bikes were semi-automatic (no clutch), but plenty for my needs. Big plans for the day and time's a-wasting!
The exhilaration I feel on a bicycle is magnified exponentially with the addition of a motor between my legs.   Breezing our way out of town, there was a sign on the side of the road that read "you don't need drugs to have fun." damn straight, I yelled, startling a few pedestrians as I passed.
We were on our way to Iwahig Penal Colony, an open-plan prison about 40km outside of Puerto Princesa. Most of the large prisons in the Philippines are normal by western standards, with the exception of the prison in Cebu, made famous by its mandatory dance program and stirring rendition of Michael Jackson's Thriller. Iwahig's departure is in its openness. Prisoners are in one of three compounds, identified by the color of their shirts. Like everything else in the Philippines, it lacks much discipline but still manages to work somehow.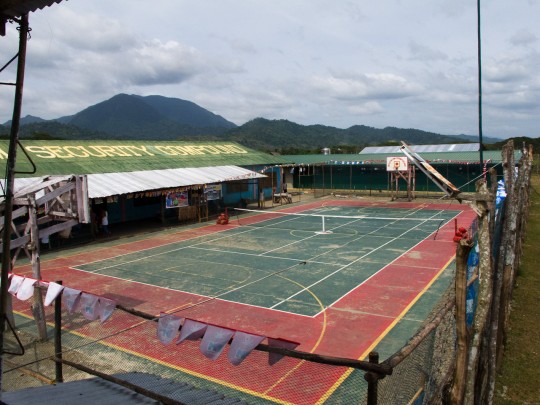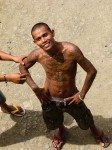 Driving into Iwahig is like visiting an Eco-village, you may not even notice it if you aren't looking for it. The gate was manned by a couple uniformed guards and an inmate wearing a brown shirt that read "inmate minimum." the guards were reclined in their seats and asked us to sign our names and country of origin. Anything else we need to know, I asked. Nah, just go on in! We continued on down the unpaved road to the minimum security compound. As we pulled up the unmistakable sound of karaoke (videoke as they call it here) wafted up to us from the compound. As we approached the gates, they opened a few inmates spilled out, trying to sell us cigarettes to give away. I asked the guys what they were in for; one homicide and one drug smuggler, each with about 5 years left on their sentences. On the platform overlooking the compound I was able to survey the area; the main yard looked like a high school tennis court, replete with a basketball hoop and a jogging track. The videoke carried on in the background, with a few inmates noticing our presence and wandering towards the gate, arms outstretched to receive cigarettes from us. One guy covered in  tattoos was yelling something to us; one of the prison workers explained his intentions to get our names tattooed on his body, for a price. What a novel idea; he's taken one of the few assets he has and capitalized on it; he was even offering different prices for different parts of his body. We looked closer, he had names all over his body,  proof that business was booming. On closer inspection, we realized that he looked startlingly like Barack Obama, if the 44th president was a Filipino criminal. We should've taken him up on his offer, it would have cost only 200 pesos to get a name on his inner thigh. I wondered how much something like that would go back in the states. In the end, we figured there was no way to get proof once the tattoo was finished.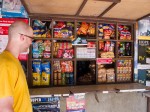 We stopped for a coke in the small village on the way to the medium and maximum compounds. The village was forth families of certain inmates who qualified. When we got to the main administration area, a minimum inmate with special roaming privileges showed us around, offering to take our picture with various buildings and signs. "just no photos of the inmates, it's against the rules here."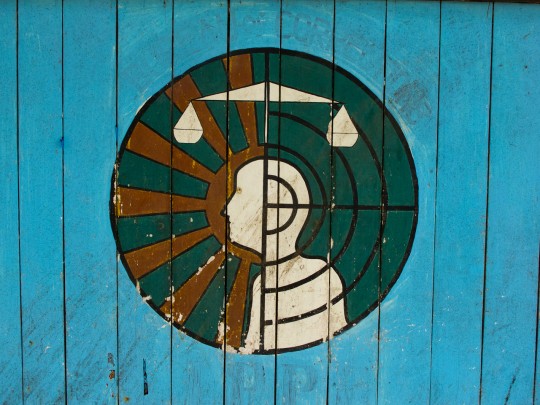 We were getting a little tired of the place, so we headed straight for the maximum security compound. The duty guard wasn't there to take us in, but we stood next to the gate and chatted with the prisoners as they greedily grabbed at the cigarettes we brought for them. They were mostly half-naked in the blazing sun, but when they are out for court dates and the like, they are identifiable by their bright orange "maximum" shirts.
Our curiosity satisfied, we rode back out and moved onto the Crocodile farm, which was pretty awesome. It had a small zoo area behind the crocodile pits, so we got to see a bunch of indigenous creatures, including the elusive Bearcat!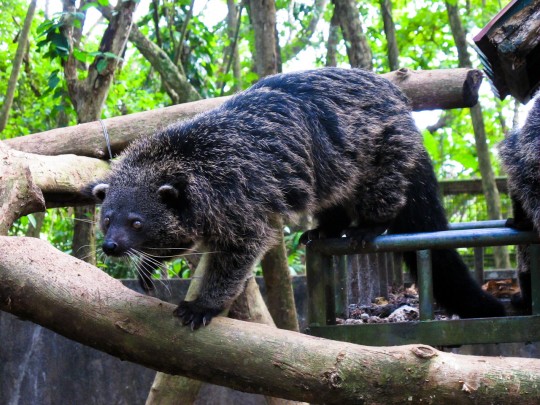 Lastly, we stopped at the butterfly garden to check out the local Flying insects that don't carry malaria. It was really cool to wander through clouds of butterflies, and I even got to hold a scorpion, which probably counts towards facing one of my major fears. OK, so maybe my fear is finding a scorpion in a shoe with my toes, but I wasn't about to face THAT one.
Jana's friend Richard arrived from Taiwan that morning and hijacked her vacation, so we pretty much lost track of her after that point. We made loose plans to meet up later in El Nido, but that didn't happen. Such is the life when you're on the road; you can never trust your plans to actually come true, just sit back and enjoy the wind in your hair.
---