Tuesday, February 15th, 2011 in: News, Travel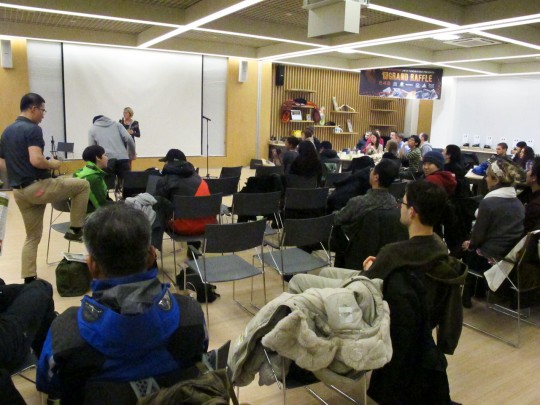 Back home, it's a bit of a tradition to go to the Reel Rock Film Tour and check out the latest and greatest in climbing films and accomplishments. The films are often so inspiring that I immediately grab my bags and set off on a climbing excursion in one of the spectacular areas in California. This year, I was bummed out that I wasn't going to be able to attend the show back home, until I checked online and discovered that I hadn't yet missed the premiere in Seoul! It wasn't too late for me. Traditions are never quite lost, they just get altered over time.
After hanging out with my new yo-yo friends, I made my way up to Suyu station in the north. It was the same station where my couchsurfing host lived, but little did I know that there was a huge North Face store, gym and "culture center" just down the road. The building had a familiar feeling to it; a bit too clean and expensive-feeling. I realized that it was the bitter aftertaste of K-2 that was climbing up my throat, but when I walked into the culture center on the third floor, I heaved a sigh of relief. Although the room was large, spacious, and clean, it was filled with the unmistakable aura of climbers. Healthful food and beer were available, people were calling out raffle numbers for door prizes, and a silent auction was held for a variety of goods that lined the room. A singer with an undersized guitar was wailing some tunes inspired by climbing, and the crowd was milling about, gauging each other, making plans for future climbing excursions. The unwashed dirtbag look was rather underrepresented, no doubt because a majority of the people there were probably English teachers with strict rules for their appearance. Korean climbers were also present, including the top female indoor competition climber in Korea, with whom Drew chatted once he arrived.
I really missed my gym back home, not because I was comparing experiences, but because I was reminded of the type of people who become climbers. They come from all walks of life, but there's a universal warmth throughout the global climbing community; that shared interest  makes climbers some of the friendliest bunch I've ever met.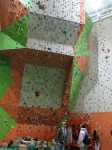 The quality of the films wasn't as impressive as it'd been in previous years, focusing less on the climbing and more on the climbers themselves, but a series of short funny videos beforehand set a good mood for the rest of the show. The sequences following Dave Graham and Daniel Woods were particularly inspiring, as they were both pushing the limits of what's possible in bouldering. During intermission, I snuck upstairs with a couple guys to play on the climbing walls. A competition had recently been held at the gym (I wish I knew about it!), so the setting was sparse but well thought out. All is not lost, I thought.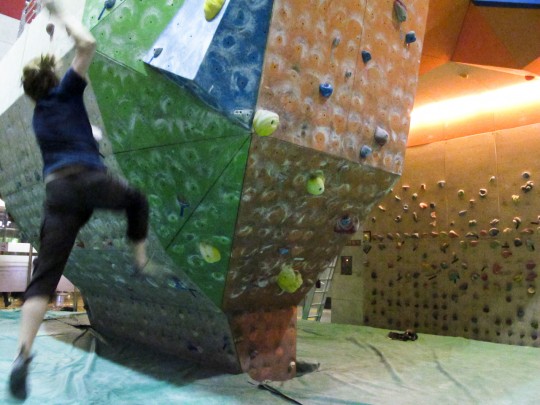 The evening was fun and inspiring, and I later learned that the organizers from Korea On The Rocks actually went into the red in order to put it all on. It's especially heartwarming to see that kind of sacrifice for the benefit of the community, and it makes me want to support organizations like KOTR (and CRAGS back home) all the more. If you are ever climbing in South Korea, definitely check out their website (www.koreaontherocks.com), which has gym and climbing area lists and reviews, and discussion boards where people organize trips to help keep the climbs safe and clean. It's groups like these that make the climbing world go around.
---