Tuesday, February 15th, 2011 in: News, Travel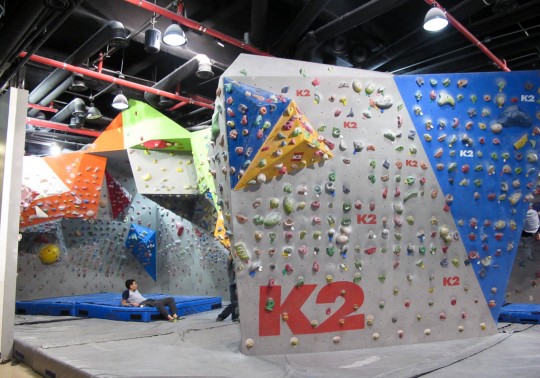 Back home, climbing gyms are generally separated into the categories of dark cramped basements where serious climbers train (beastments), and the "birthday party gyms," which thrive on the business of non-climbers. These distinctions seem to be universal, if my experience in Korea is any indication. I wasn't aware of the basement gyms at first, and so I went to K2 with Drew, touted as the biggest climbing gym in Seoul.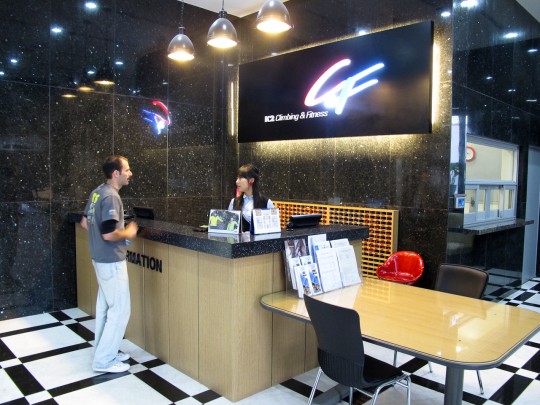 Buying a day-pass at K2 felt like checking into a modern hotel; for the 30,000 won daypass ($30, STEEP by any standards) they gave us an RFID keycard to get us into the bouldering area, which was partitioned away on the 3rd floor by a glass wall. The climbing area was indeed clean and spacious, but unfortunately, it's the setting that makes or breaks a gym, and K2 was set like they were expecting a bar mitzvah to break out any minute. The boring setting was made even less interesting by numbering each hold and indicating whether it was for the left or right hand. I wouldn't have been surprised if you could hire a guy to climb it for you. We ended up making our own problems and playing add-on instead.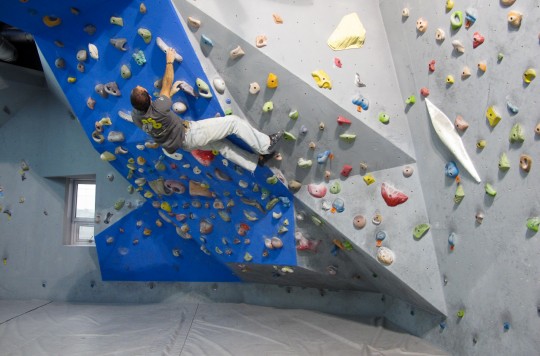 Our lust for climbing was hardly satiated, but Drew knew that his injured finger wasn't up for more adventures, and he decided to take it easy for the rest of my stay. I wasn't going to let this ground me, so I jumped online and looked up the other climbing options in Seoul. I was pleasantly surprised to see an array of beastments splayed out across the city. Summit Climbing was a short bus ride away, but the day I went to check it out, they'd already closed for the evening. The owner, Mr. Chang, was still there, and he showed me around and invited me to come back. I had a great time playing around on all the climbing toys a couple days later, and I returned a few times to work the long, traversing problems, meeting some very strong Korean climbers whose photos and magazine clippings were plastered all over the wall. Here's an idea of the setting there; the problems were on average between 20 and 5o moves. I know I suck, it's not necessary to remind me 🙂
One downside to bouldering gyms in South Korea, is that it seems like the attitude bouldering is such that it's not treated like its own sport, but rather it's more or less practice for rope climbing. As such, almost all the problems are long and pumpy, meant to build endurance, rather than power. The focus is on linking many moves, rather than the quality of the moves themselves. Just an observation–to each his own–but as a lazy boulderer, I prefer to treat it as its own sport altogether, and I like to see gyms take it just as seriously. In a word, the bouldering at K2 was a joke.
It's not to say that all big gyms are bad, I'm enamored with my home gym, Sacramento Pipeworks and all the Touchstone gyms in California. I guess it's just that this K2 place is one of those gyms who just don't care about climbers; but it's not enough to just have a wall and throw holds on it. I guess it just boils down to there being two kinds of climbing gyms; the ones you want to climb at, and the ones you don't.
---