Tuesday, August 17th, 2010 in: News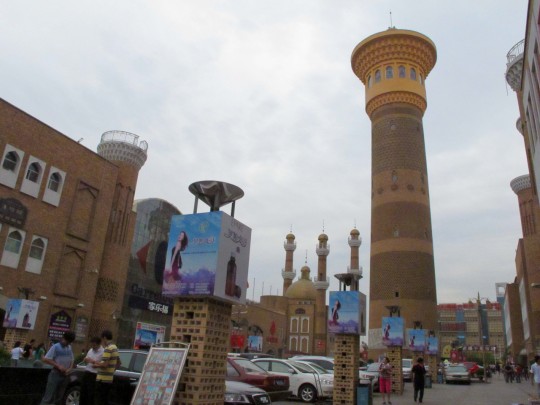 Any traveler should be familiar with Couchsurfing, an awesome website that hooks travelers up with locals and other visitors to better get to know the place. People can meet up just to chat, or even host travelers on their couch if possible. In Xingtai it had occurred to me to check CS for members, and was surprised to find quite an active community in Urumqi. I sent out a few requests…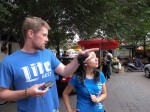 And was denied. Well, no one had a couch available at least, but I got a response from one girl saying she could meet up for coffee. She was studying Japanese and spoke several languages, including Chinese, English, and her native tongue Uyghur. She asked if some friends could tag along. Sure, the more the merrier!
Dan was excited at the prospect of learning more about Xinjiang from a Uyghur perspective. The Uyghurs are one of China's 56 ethnic groups, and comprise a large muslim population in the west. Their language is similar to Turkish, Kazakh and Uzbek, and their culture is markedly different from what you'd imagine when you hear "Chinese." As with Tibet, China has essentially flooded Xinjiang with Han Chinese in an effort to harmonize the area and homogenize the area, but the result is that Urumqi has essentially split into a Han Chinese side and a Uyghur side of town, further highlighting the differences between the people in the area. Last year, there were riots started by a Uyghur separatist group, and the Chinese government responded by closing the area off for months, including cutting off internet connections. Had that not happened, Dan might be living in Urumqi; the internet is his livelihood, he couldn't afford to be cut off from it for so long.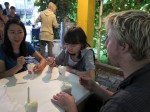 Our hostel was deep in Han territory, and felt similar to other Chinese cities, with the exception of the variety of people walking around, shopping and running the streetside vendors selling a variety of snacks I hadn't before encountered. Madina met us at the Tower near Erdaoqiao market, in a rather touristy part of the Uyghur section. Later, another traveling American from Couchsurfing, Paul, and two of her Uyghur friends joined us for some local eats and to walk around a bit. Paul had been teaching in Gansu province, and just finished riding a motorcycle across the Chinese countryside, camping along the way. "The key is to stay hidden, just don't try to sleep in an obvious spot and no one will bother you." The seed for a new adventure has been planted.
The pilaf and baked baozi were very tasty and a welcome change from the Chinese cuisine we'd grown tired of. Afterwards, Madina introduced us to an Egg ice cream and a yoghurt shaved ice, both very refreshing. We wanted to do a little souvenir shopping but we were too late by the time we got back to Erdaoqiao. Maybe when we get back into town. We stopped by Carrefour to get me a sleeping bag for our trip. I didn't want to spend a bunch of money since I already had a bag I'd left in Japan. I found a decent one for 100 yuan, a steal by my standards. It was a bit bulky and was only rated for 5C, but that should be fine, we weren't going snow camping. Dan got a small propane stove at an outdoor shop, and we later stocked up on food and other necessities on our way back.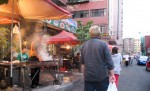 Walking back to the hostel we found a rather large collection of street vendors selling a variety of local foods. All the vendors were Uyghur, but most of the customers seemed to be of Han descent. There seemed to be a line drawn between them; despite being the "same" Chinese they were still divided by language and culture to a significant extent. "It seems like the Han are favored for the higher-paying jobs, and the Uyghurs are kind of held down as a group," Dan observed as we ordered. The beer vendor was run by Han, and the Uyghurs would shout out for pijiu if someone ordered it, for they weren't allowed to handle liquor. At one point, we witnessed a rather violent fight break out between what appeared to be one of the vendors and a Han. It was unclear what the dispute was about, and no one we asked seemed to know either. There was just a tension in the air, perhaps a remnant of last year's unrest. You could taste it, and it hung sour in the air and on the faces of the locals, Uyghur and Han alike.
So is it ئۈرۈمچی, Ürümchi? or 乌鲁木齐, Wūlǔmùqí?
---