Wednesday, August 11th, 2010 in: News, Travel
"Wow, Xingtai has really come a long way," Dan remarked as we pulled close to his home away from home. A small city four hours by train from Beijing, Xingtai used to be an industrial center filled with smelting plants. Apparently industry has either improved or moved away, taking with it the acrid stench of development. "It used to hang in the air, the humidity made the stink like a solid wall you just had to put up with." Dan was delighted by these developments, but realized that the layout of the city had changed so much in three years that he was once again a stranger in his new home. All of his favorite street markets had been replaced with strip malls or construction sites; Poor housing had been demolished to make room for shiny new apartment buildings the former residents couldn't afford. Posters of new development were everywhere, hiding the ground level of construction sites from prying eyes. The character and personality of Xingtai was being replaced with modernity and cleanliness. Progress, by someone's account.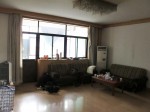 Dan's place was in a small gated community right on campus. Originally built for school administrators, his new apartment was enormous. 3 bedrooms, one and a half bathrooms, an office, kitchen with small dining room and a massive living room, not to mention the veranda overlooking his spacious backyard. All to himself. He thought he had a lot of stuff, but when he put it all away the apartment was once again pretty empty. Plans were immediately put into effect to fill the space and spruce it up for the coming year. Another former teacher, Kevin, was staying in one of the bedrooms, working on a novel over the summer. Dan conscripted Kevin to help him weed the backyard in the muggy heat while I planted myself in front of the AC to catch up on my photos.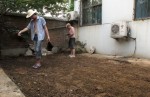 The backyard underwent an amazing change over the next few days trash was removed, furniture was cleaned off (amazingly he had a mint-condition ping pong table buried under 4 years worth of dust and dirt), sidewalks were smashed, soil was turned, holes were filled, more holes were dug then filled, obtrusive poles were removed, rock gardens built, ground was flattened and lawn seed was sown. Dan's multiple trips to the local hardware stores yielded a large amount of gardening implements, most of which broke within the first half hour of use, much to his frustration.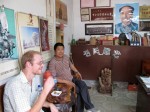 Dan needed to get a bike to last him the year, so his "handler," Weiwei, gave him the address of a place that sells "Japanese bikes." I'm not sure why such a specialty shop would exist, but we went looking for the shop nonetheless. It was in the courtyard of another shop filled with elaborate wood carvings, the proprietor of which was happy to show us around and chat us up while we waited for the bike shop owner to arrive. His carvings were indeed very impressive, just the sort of thing Dan could use to fill some of that empty space in his house, but the astronomical prices for fine woodwork are above and beyond a mere English teacher's salary. When the bike guy arrived, he unlocked the door and led us into a dingy concrete room filled with relics of a lost time. It wasn't just a Japanese bike shop, it was an antique bike shop.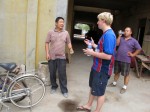 Most of the bikes had seen much better days, in the 1940's, but they were all many times the cost of a new cheap bike that Dan was looking to get. Considering the amount of time we'd spent talking to them and having called the bike guy all the way out to open the shop, Dan had to tread carefully to extricate himself from the pile of shit he'd found himself in. It was doubly hard with the woodworker's friend standing by with a camcorder. Whoops. "Weiwei is about as useful as the Swiss Navy."
There is practically no good reason for a foreigner to be seen in Xingtai, so walking down the street elicited countless stares and Hellooooos, almost more than any other place I'd been to so far. Everyone was really friendly and outgoing, lending an air of joviality to the city. There didn't seem to be much do other than visit Internet Cafes, but we discovered a popular park, and our last night in town we went to what used to be the only nightclub in Xingtai. After hitting up a street restaurant for our dinner, we found the club and went inside. Despite being some of the only foreigners to walk in, we still had to pay the 20 yuan cover. The club consisted of a large raised stage surrounded by guards and people. We were ushered to a table near the stage and our hosts kicked some Chinese guys off their stools to give to us. We felt bad but there was no saying no, so we took a seat and ordered the first round. A girl was decked out in Chinese nightclub fashion, belting out Chinese pop songs for the audience. A guy took over for her, eliciting applause from the audience for his new laowai friends in the audience! Oh geez they're pointing us out to everyone, as if we didn't already feel a bit awkward about the whole situation. They presented us with stuffed Shanghai World Expo mascots for us, making for a really strange experience. Thankfully he quickly switched gears and went into his own set of songs, then the stage opened up to the crowd. and it soon became densely packed with people wiggling to the music. We ordered some more drinks, figuring we were probably stuck out enough as it was without getting on the dance floor. We didn't realize that the club wasn't open much longer, and next thing we knew were were being ushered to the VIP bar in the back where we could relax better. Some girls working there came up and started chatting. Dan and Kev were convinced they were either prostitutes or hostesses, but we were surprised that they didn't try to get us to order any more drinks. I went to the restroom and saw that the dance floor was deserted… apparently the club had already closed and we were the last ones in the bar. Shortly thereafter the girls we'd been talking to were called to go count up the registers, and we were politely ejected from the club. We found ourselves a taxi back to Dan's, more than slightly confused at how the evening had unfolded.
The next day had a slow start accompanied by a headache and much coffee. We managed to collect ourselves in time to set off for the train station to Shijiazhuang, where our plane was waiting to take us to the wild wild west of China.
---