Friday, June 25th, 2010 in: News, Travel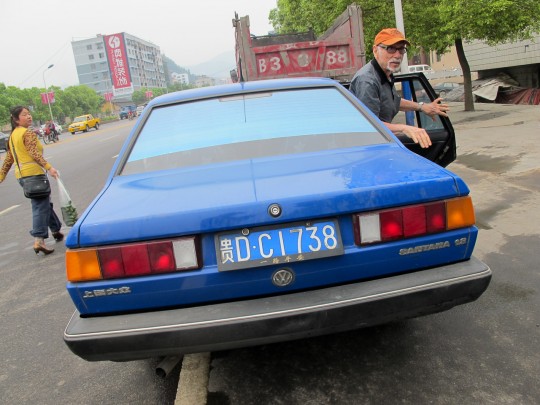 In order to avoid getting burned out from sitting in the car for too long a stretch, we broke up our longer drives and every few days we spent a night in a town midway between destinations. These towns sometimes provided us with the most memorable experiences. Between Fenghuan and Zhenyuan was Tongren (铜仁), a provincial level city in eastern Guizhou province.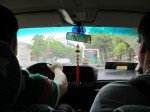 Walking from the bus stop to our hotel, it was pretty obvious this place didn't get many foreigners. I already feel like a big turtle, walking around with all of my belongings on my back, but the parade of my older companions pulling their wheeled luggage down the bumpy sidewalk could do nothing but attract curious stares. If it weren't for Ben, we would have looked very lost indeed.
After dinner in the fancy hotel's "western restaurant" which exclusively served Chinese food. We went downstairs to check out the massage parlors. Having only had a handful since their arrival, Jim and Grandpa were really roughing it .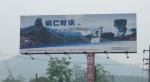 The hotel massage parlor was attached to a spa facility, requiring you to buy a relatively expensive spa package to get a rub-down. Grandpa was already a little tired and decided to turn in early. Ben still had to go check out the bus station to figure out our schedule for the following day, so Jim and I tagged along to check out the rest of the city. The bus stop was already closed and there was no posted schedule, which meant the buses would probably leave once they were "full enough."
We started to walk back towards the hotel, keeping an eye open for a massage parlor. "Oh, this place looks good, 'Leisure Center!'" I thought Ben was joking, but he led us across the street and into the alley where the entrance was tucked away. We started up the staircase and he assured us that the blue lighting was a good sign. "It's the pink lighting that you gotta look out for!" We walked through the entrance and I paused. "Uh, Ben? half the lighting in here is blue, but the other half is pink…"
"hmmm." I could see that Ben's spidey sense was tingling as well. Some girls draped across a couch on the other side of the room jumped up at the sight of us and scurried away excitedly, presumably to gather the others. Ben was still standing there looking even more befuddled than myself, and an older lady came up to him and said something. Ben spun on his heels.
"Oh no, they're whores. Let's go."
We quickly made our way back down the stairs and back onto the street. I asked him what she had said. "Fast Food 150, Full Service 250." Our pace quickened.
A little further down the road there was a much larger "Spa Center" with a big open lobby filled with clientele. "This looks much better, you can tell a place is good when they actually have female customers." We ordered the 90 minute Thai Massage from their menu ranging from 30 minute foot massages to the mysterious 450 yuan "VIP Service." All services  came with a free dip in their spa center. The locker room attendants were excited to see their first naked foreigners, and were trying to be a little too helpful. I waved them off and headed for the showers; I'm not used to being doted on, but it's even more uncomfortable when they're trying to get an eyeful of your junk.
The facilities reminded me of going to a mid-range man-made onsen or sento in Japan, with showers and a few different kind of baths. After showering, we soaked in the "hot spring" bath and watched the Shanghai Expo's opening ceremonies on a plasma TV suspended under a ceiling studded with twinkling fiber optic stars. Some guys in swim trunks came over and offered to scrub us. "hmm, no thanks I think I can handle it…"
We rinsed off and went back to the locker room to change into our "customer PJs," (similar to a Japanese jimbei) which were unfortunately one-size-fits-all for Chinese sizes, which meant a solid 3 minutes of two or three locker room attendants helping Jim into a one-time-use outfit that was still woefully too small for him. We were led upstairs to the individual massage rooms and I paused for a moment. "Hey Ben, half of the lights are blue and the other half is pink…"
They waved Jim into a room with a king size bed and Ben said "ooh tonight they'll treat you like a king!" That phrase sent up all sorts of red flags in my head, and we soon realized that they were trying to upsell us the VIP Service I'd seen on the menu, and then it became painfully clear just what the VIP service was. We cracked the door and informed Jim of the mix-up. I could only imagine how things would have gone if we didn't realize what was going on. "So uh, it's 450, do you want the VIP service?" I was gingerly asked. "hmm, no I think I'll have to pass this time, it's not really what we signed up for is it?"
We were led back downstairs to slightly dingier rooms; Jim got his own room across the hall from us just in case they needed help translating, and Ben and I split a double. Our masseuses were excited and a bit nervous for their first foreign customers, and Ben translated a bit as they confessed that they'd chosen us based on our names. "Jim sounded so cute, but she bit off more than she could chew" they giggled.
The massage was pretty good, but Ben assured me it was more Chinese than Thai. Oh well, a good massage is a good massage, as long as it doesn't have a surprise happy ending.
---