Monday, March 18th, 2013 in: Print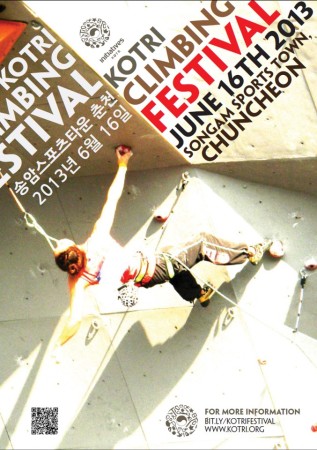 KOTRi (Korea On the Rocks Initiatives) is a climbing access group in Korea whose goal is to bridge cultural gaps between Korean and foreign climbers, and promote good climbing ethics in Korea. As one of their promotions, they are putting on a climbing contest this year. I was asked to put together a poster promoting the event, which will be distributed and posted at climbing gyms all around Korea.
---
Monday, March 18th, 2013 in: Print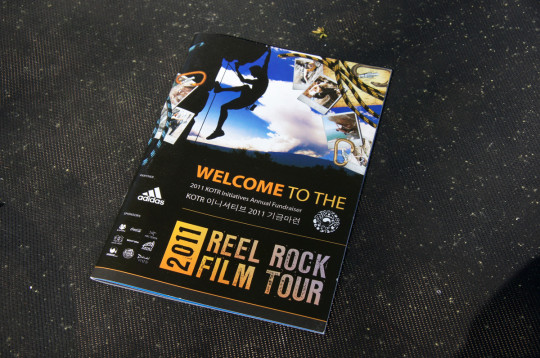 Last year I volunteered some design services to the KOTRi (Korea On The Rocks Initiatives) group to help support their screening of the Reel Rock Tour, an international climbing film festival. They really liked my work, and decided to hire me for the 2012 programs as well.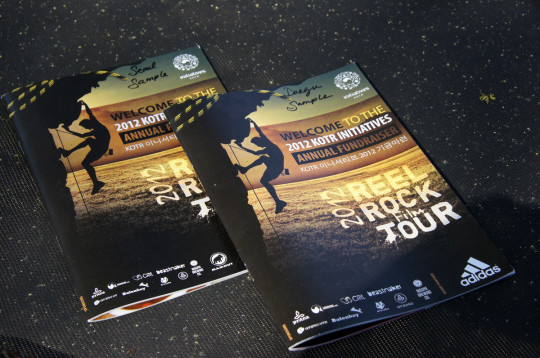 (more…)
---
Monday, March 18th, 2013 in: Miscellany
Hiro and Hilary, two of my best friends in Japan, got married in Japan on April 4th, 2012 at Inuyama castle. In Japanese, 4 can be read as "yo," so 4/4 is "Yo-Yo!" I was still in Korea, but they had plans to hold another wedding in the states later that year, after the US National Yo-Yo Contest. Hiro asked me to be one of his groomsmen, and to design a commemorative wedding yo-yo to give to guests.
I rang up Hans Tseng of Slime Mansion and Directions of Destiny for help. Hans is another great friend and was going to be a bridesmaid at the wedding. He was going to do an original poster for the wedding. I had some concepts sketched out but unlike Hans, I'm no artist. He drew the portraits on one side of the yo-yo, and I did the hand-lettering on the other side. I really like how they came out, and they were a big hit at the wedding, which was a blast!
(more…)
---
Monday, March 18th, 2013 in: Identity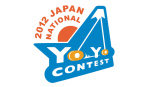 For a while, Hiro has asked me to think of new design ideas for the Japan National Yo-Yo Contest. They had been using the original logo for many years, just changing the date, and they were ready for a branding reboot.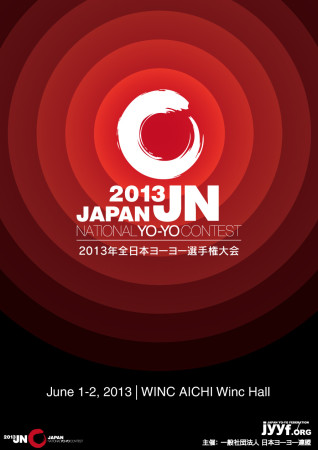 I wanted to do something simple that evokes the spirit of Japan but also relates back to the yo-yo. In Japanese iconography, the Zen symbol called "Enso" is one of the most simple, yet striking designs. The brushed circle represents endless cyclic existence, and I found it a good analogy for the endless spinning of a yo-yo. The red circle is also prominently featured on the Japanese flag, so I created a stepped circular backdrop for the contest poster.
The design has a few variations for use across print and digital media.
Information about the 2013 Japan Yo-Yo League can be found here (more…)
---
Monday, March 18th, 2013 in: Identity

The yo-yo world is full of intrigue!
A lot of drama happened around the World Yo-Yo Contest, which has been held in Orlando, Florida for over a decade. Several international groups have matured to the point that they wanted to host the contest and start moving it around each year, which turned into a bitter fight over the contest's direction.
Hiro spearheaded the formation of the new International Yo-Yo Federation, collaborating with yo-yo community leaders from around the world. He brought me up to date while I was in Japan, and I started sketching logo ideas for the proposed organization.
Ultimately, a deal was struck and the World Yo-Yo Contest merged with the IYYF, leading to a new era for international yo-yo contests. My design was adopted for the group's logo, which can be seen at their website, www.IYYF.org.
---
Monday, March 18th, 2013 in: Print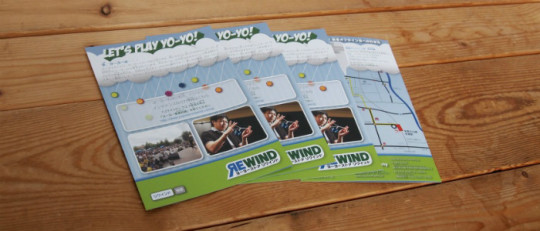 Rewind bundles a pamphlet with every order in Japan, with important information about the store and its staff, new product announcements and warnings about playing safe. The pamphlet was in need of a new design, so I took some of the design direction from the DVD case and applied it to the pamphlet. The resulting pamphlet has been distributed with several thousand orders, and has received a warm reception from the Japanese yo-yo community. (more…)
---
Monday, March 18th, 2013 in: Miscellany
The talented Shinya Kido, 2009 World Yo-Yo Champion, wrote, shot, edited, and starred in his own instructional yo-yo videos. The series, called "One Step Closer," was compiled to create a full instructional DVD to be distributed by Rewind. I was asked to put together some DVD disc and cover art.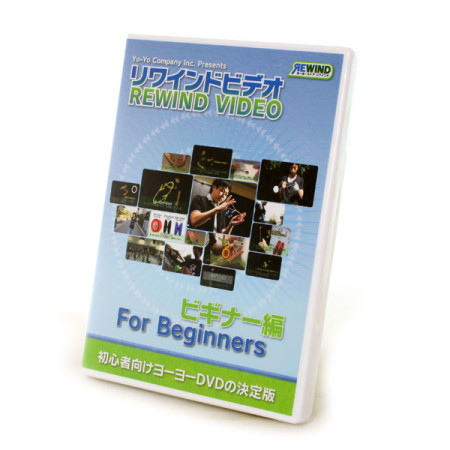 (more…)
---
Monday, March 18th, 2013 in: Miscellany
REWIND Video Contest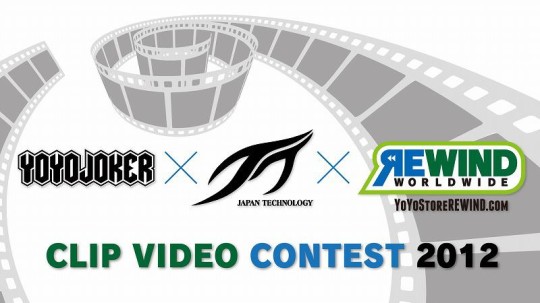 We collaborated with two yo-yo makers (YoYoJoker and Japan Technology) to create a clip video contest, inviting all our fans to make a video of themselves playing yo-yo, with several thousand dollars worth of prizes. The turnout was amazing, and with over 70 individual entries you can view here, Shinya cut together a feature-length video showcasing the best ones, with commentary and announcing the contest winners.
---
Monday, March 18th, 2013 in: Miscellany
Rewind is now three years old, and we've worked hard to reinforce the brand but also keep it fresh, with a variety of branded goods for our customers to wear and use in support of the store.
Apparel
Rewind designs have found their way onto a lot of clothing, with several different designs for t-shirts and sweatshirts. I'm quite happy with the embroidery job on the caps
---
Saturday, August 4th, 2012 in: News, Reviews, Travel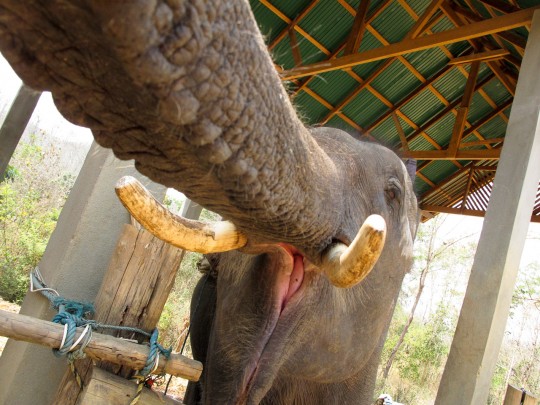 When we met up with Jana, she expressed an interest in doing elephant training for a day. I never had a chance to get up close with anything larger than a horse, so the opportunity was too good to pass up. Elephant training camps, now mostly for the sake of tourism, are popular in Thailand as well, but they're a better deal in Laos. I'm generally concerned with the welfare of the animals, first and foremost, so I found the Mahout (elephant trainer) information center in Luang Prabang (not far from a major intersection where the night market ends) to inquire about the local training centers. If memory serves, we booked with the All Lao service, at the Mahout Lodge. A minivan picked us up the next morning at our hotels to drive us about 30 minutes Northwest of the city.
The overall experience of an elephant training camp can't possibly live up to one's expectations, especially after living vicariously through 星なった少年 (English title "Shining Boy & Little Randy), a novel-turned-movie about a Japanese boy who came to Thailand to become an elephant trainer. Mahouts bond deeply with their elephants, and although I only had an afternoon, I was hoping to get a little more familiar with the largest land mammal on the planet. (more…)
---